Medium Antique Manipuri Singing Bowl – Bb4 – Sun Motifs
---
---
Antique Manipuri Singing Bowl. Note Bb4 (Crown Chakr)
Weight 1 lb 2 ¾ oz. (531 grams). Size 19 x 6 cm (7 ¾ x 2 ½ inches)
This medium size antique Manipuri Singing Bowl has a third octave Eb (157Hz) struck note and a middle Bb (445Hz) when played around the rim with a suede ringer. The rim note changes to a fifth octave A (865Hz) if a wooden ringer is used. Manipuri bowls are normally played around the rim, rather than struck.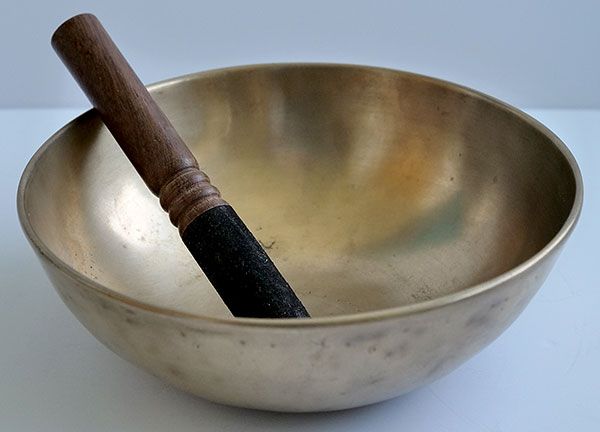 This early Manipuri, circa 1800, features a decorative circle of sun motifs (punched dot surrounded by a circle) at its centre, and a band of suns around the outer rim, where there is also evidence of sacred ritual gashes.
This lovely old Manipuri bowl is clean and structurally sound but has taken a couple of small knocks during its long life, including a tiny V-shaped dig inside. These are barely noticeable but have been taken into account in the price.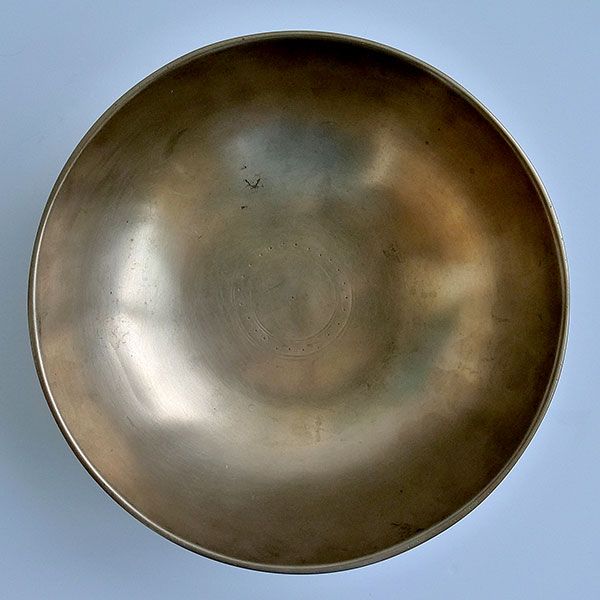 A Tibetan silk brocade cushion and a double-ended teak and suede ringer are included in the price.
Note: Audio clips coming soon.