Medium Antique Manipuri Singing Bowl – Lovely A3 (218Hz)
---
---
Antique Manipuri Singing Bowl. A3 (218Hz) Third Eye Chakra
Weight 1 lb 7 oz. (653 grams). Size 18.5 x 6.5 cm (7 ¼ x 2 ½ inches)
Antique Manipuri Singing Bowl. A3 (218Hz) Third Eye Chakra
Weight 1 lb 7 oz. (653 grams). Size 18.5 x 6.5 cm (7 ¼ x 2 ½ inches)
This is a medium size antique Manipuri Singing Bowl with a lovely third octave A fundamental (218Hz) when struck or played with a suede ringer…an uncommon note. The rim note changes to a fifth octave Eb (628hz) if a wooden ringer is employed. It's a responsive bowl and is easy to play.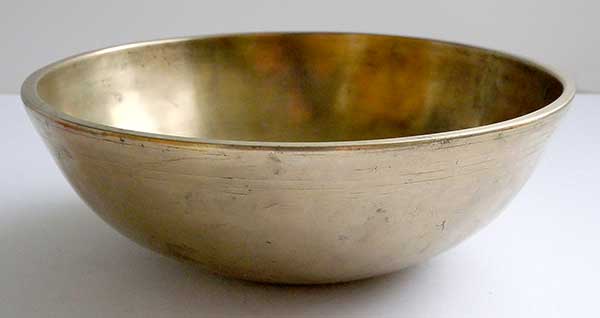 This is nice quality old bowl with walls have been worn smooth with long use, although the decorative bands around the outer rim are still present.
It is in excellent and clean structural condition and has an attractive golden bronze colour. A Tibetan silk brocade bowl cushion and a ringer are included in the price.
{audio}manipuri653.mp3{/audio}
Listen: (3 struck notes and 2 played notes, suede ringer then wood)