Medium Naga Singing Bowl – E4 Note & Pictorial Inscription
---
---
Naga Singing & Healing Bowl. E4 (335Hz) Solar Plexus Chakra
Weight 1 lb 11 oz (766g). Size 15 x 10 cm (approx. 5 ¾ x 4 inches)

Naga Singing & Healing Bowl. E4 (335Hz) Solar Plexus Chakra
Weight 1 lb 11 oz (766g). Size 15 x 10 cm (approx. 5 ¾ x 4 inches)
This medium size Naga Singing and Healing Bowl probably dates from the mid 20th century and features an extremely nice pictorial inscription of a more recent date. The dot-punched inscription is set between two lotus flowers and two large fishes.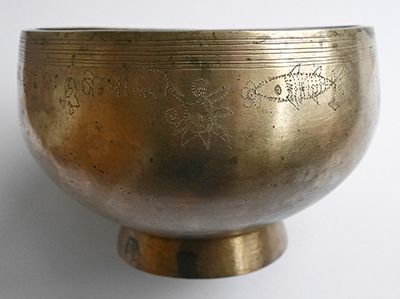 The fundamental note is a nice middle octave E (335Hz) when struck with a padded mallet or played around the rim with a suede ringer. The rim note changes to a fifth octave Bb (920Hz) if a wooden ringer is employed.
A double-ended teak and suede ringer is included in the price.
This Naga bowl is very well constructed and in nice condition.
Audio clips coming soon.