Medium-Size 9" Antique Jambati Singing Bowl – Perfect Pitch G#2 – Massive Sustain
---
---
Antique Jambati Singing Bowl. Notes: G#2 & Eb4 (Throat & Solar Plexus Chakras)
Weight 2 lb 7 ½ oz. (1.12 kilos). Size 28 x 12 cm (9 x 4 ¼ inches)
Antique Jambati Singing Bowl. Notes: G#2 & Eb4 (Throat & Solar Plexus Chakras)
Weight 2 lb 7 ½ oz. (1.12 kilos). Size 28 x 12 cm (9 x 4 ¼ inches)
This medium-size antique Jambati Singing Bowl has an excellent low perfect pitch second octave G fundamental (103Hz) with a very long sustain when struck with a padded mallet or played around the rim with a suede ringer. The rim note changes to a middle Eb (311Hz) with a wooden ringer.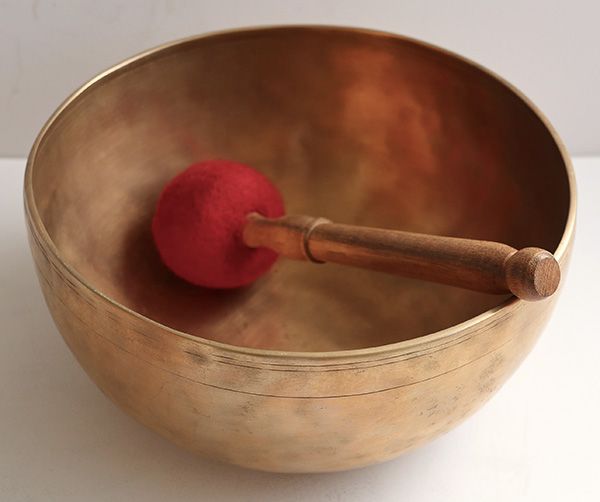 This antique bowl has finely hammered walls worn sensually smooth over time, and a plain sheered lip. The decorative incised bands that form a collar around the outer rim have been slightly misaligned during manufacture. Nonetheless this is a very attractive bowl in excellent and clean condition, with a lovely voice.
A small padded striker, and a double-ended teak and suede ringer are included in the price.
{audio}jambati1-12.mp3{/audio}
Listen: (3 struck notes and 1 played note)