Medium Size Antique Naga Singing and Healing Bowl – F#4 & B5
---
---
Antique Naga Singing Bowl. F#4 & B5 (Heart & Crown Chakras)
Weight 585 grams (1 lb 4 ½ oz). 13.5 x 9.5 cm (approx. 5 ¼ x 3 ¾ inches)
Antique Naga Singing Bowl. F#4 & B5 (Heart & Crown Chakras)
Weight 585 grams (1 lb 4 ½ oz). 13.5 x 9.5 cm (approx. 5 ¼ x 3 ¾ inches)
This medium size antique Naga Singing and Healing Bowl has a middle (4th) octave F# (362/6Hz) fundamental when struck or played around the rim with a ringer. The rim note changes to a fifth octave B (989Hz) if a wooden ringer is employed. It's a responsive bowl and easy to play.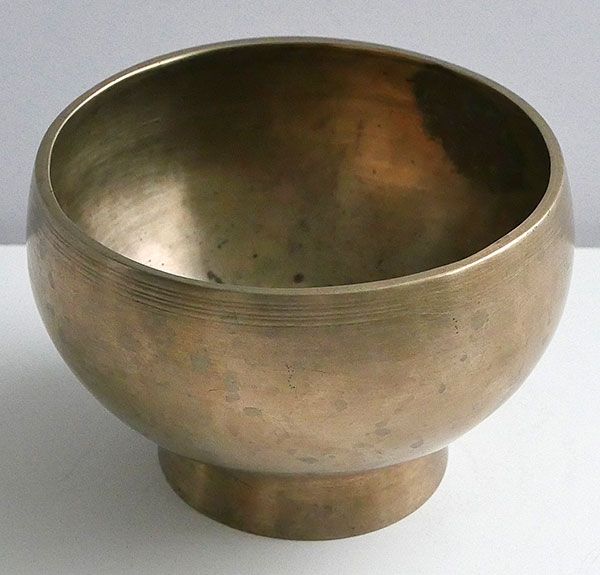 This is a nice clean example of the Naga or pedestal bowl form. Iis structurally sound and has a bright golden bronze colour.
A double-ended teak and suede ringer is included in the price.
Note: Audio clips coming soon.