Multi-Harmonic Fine-Walled Antique Remuna Singing Bowl – Bb2 & F4 + B3, D4, E5
---
---
Antique Remuna Singing Bowl. Notes Bb2 & F4 (Crown & Heart Chakras)
Weight 474 grams (1 lb x 0 ¾ oz). Size 18 x 10 cm (7 x 4 inches)
Antique Remuna Singing Bowl. Notes Bb2 & F4 (Crown & Heart Chakras)
Weight 474 grams (1 lb x 0 ¾ oz). Size 18 x 10 cm (7 x 4 inches)
This is an extremely light fine-walled antique Remuna Singing Bowl with multiple voices. In fact it has so many harmonics that it's difficult to determine the actual fundamental with any accuracy. I believe this to be the second octave Bb (118Hz) when struck with a padded mallet, or the middle F (344Hz) when played around the rim with a wooden ringer…but a B3, D4 and E5 are also readily available, and probably more.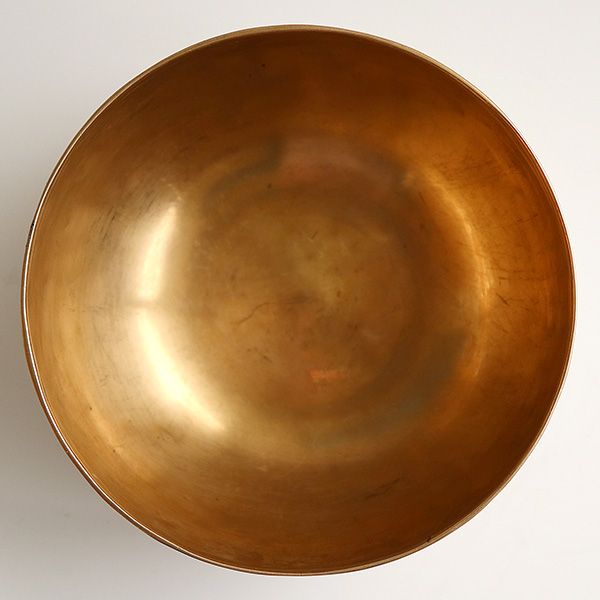 This bowl has the typical graceful Remuna form, with an exceptionally smooth and fine wall. There is a raised mound at its centre, and a single decorative band encircling the outer rim, beneath which are a series of ritual gashes now worn smooth with the passage of time.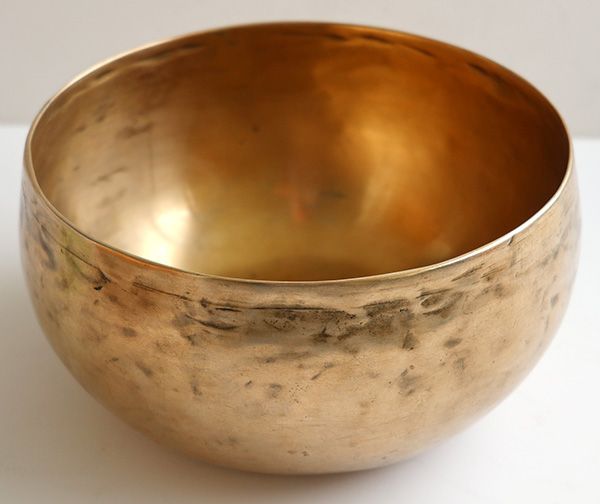 The old bowl shows signs of long use and wear, but it remains structurally sound, clean and virtually free of stains and blemishes.
A Tibetan silk brocade bowl cushion, a small padded striker and a double-ended teak and suede ringer are all included in the price.
Note: Audio clips coming soon.