Outstanding 12 ¾" Antique Jambati Singing Bowl – Double Concert Pitch, OM & Fountain
---
---
Antique Jambati Singing Bowl. Note F#2 (92Hz) & G#4 (277Hz) Heart & Throat Chakras
Weight 2.73 kilos (6 lb 0 oz). Size 32.5 x 15.5 cm (12 ¾ x 5 ¾ inches)
Antique Jambati Singing Bowl. Note F#2 (92Hz) & G#4 (277Hz) Heart & Throat Chakras
Weight 2.73 kilos (6 lb 0 oz). Size 32.5 x 15.5 cm (12 ¾ x 5 ¾ inches)
This huge superior quality 12 ¾" Antique Jambati Singing Bowl is just about as good as they come. It is both physically and sonically exceptional, and you would be hard pressed to find a better example of this bowl form anywhere.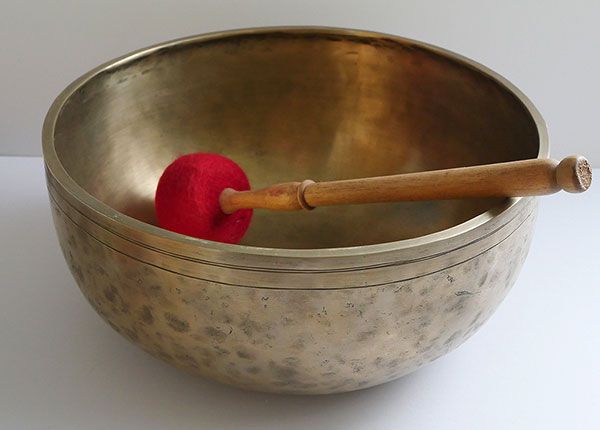 It has particularly beautiful deep-body and finely hammered walls that make it relatively light for its huge size. It has a smooth triangulated lip with a decorative banded collar, and there are circles at its centre. It is in exceptionally nice structural condition and is free of stains and blemishes.
The fundamental note is a fabulous perfect pitch low second octave F# (92Hz) when struck or played around the rim with a suede ringer. Its low frequency is capable of producing the OM sound, and fountains if played with a little water inside. The rim note changes to a concert pitch middle G# (277Hz) if a wooden ringer is employed.
This is the first Jambati antique bowl I have come across that is capable of producing 2 perfect pitch notes. It is extremely unlikely that it was deliberately tuned to the chromatic scale, and the chance of finding a perfect pitch Jambati is always slim…so to find one that has 2 perfect pitch notes almost defies belief! The OM and fountains are unexpected bonuses that add to its uniqueness.
Simply the best of its kind!
A couple of Tibetan silk brocade bowl cushions and a selection of strikers and ringers are included in the price.
Note: Audio clips coming soon.