Premium Quality 8 ½ " Antique Jambati Singing Bowl – 2 Superb Voices
---
---
Antique Jambati Singing Bowl. Notes C3 & G4 (Root & Throat Chakras)
Weight 783 grams (1 lb 11 ½ oz). Size 21.5 x 10 cm (8 ½ x 4 inches)
Antique Jambati Singing Bowl. Notes C3 & G4 (Root & Throat Chakras)
Weight 783 grams (1 lb 11 ½ oz). Size 21.5 x 10 cm (8 ½ x 4 inches)
This is a premium quality medium-size antique Jambati Singing Bowl with 2 excellent voices and a tiny inscription.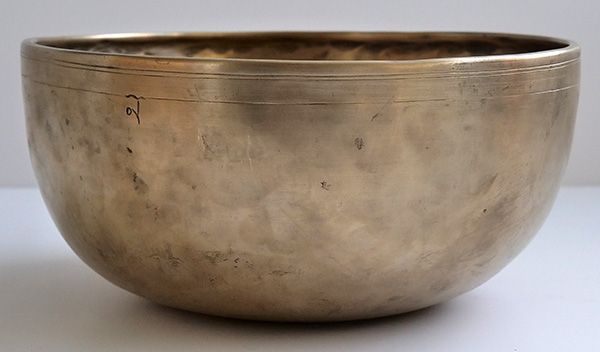 This beautiful well-proportioned bowl has finely forged walls that make it light for its size and therefore easy to hold and play for an extended period. There are circles at its center, and decorative bands forming a collar around the outer rim, below which is a tiny inscription.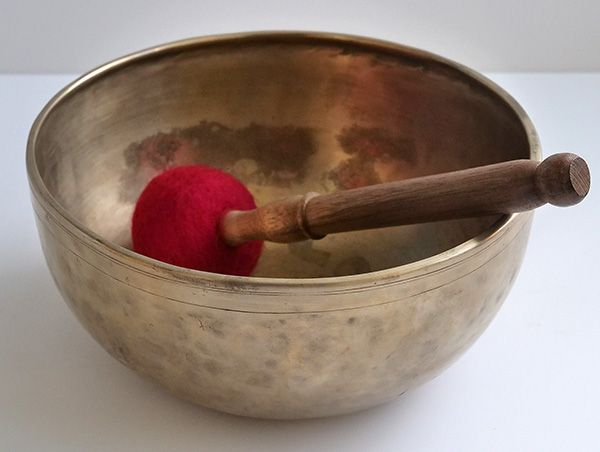 The fundamental note is a third octave C (128-130Hz) when struck with a padded mallet or played around the rim with a suede ringer. The rim note changes to a middle G (390-393Hz) if a wooden ringer is employed. Both notes are very close to concert pitch.
It is in exceptionally fine condition, structurally sound, virtually stain and blemish free, but with some copper oxidization.
A Tibetan silk brocade bowl cushion and a double-ended teak and suede ringer are included in the price.
Note: Audio clips coming soon.