Premium Quality Tiny Antique Thadobati Singing Bowl – G#5 & A5 – Reduced
---
---
Antique Thadobati Singing Bowl. Notes: G#5 & A5 (Throat & Third Eye Chakras)
Weight 0 lb 11 ¼ oz. (317 grams). Size 11.5 x 4.5 cm 4 ½ x 1 ¾ inches)
Antique Thadobati Singing Bowl. Notes: G#5 & A5 (Throat & Third Eye Chakras)
Weight 0 lb 11 ¼ oz. (317 grams). Size 11.5 x 4.5 cm 4 ½ x 1 ¾ inches)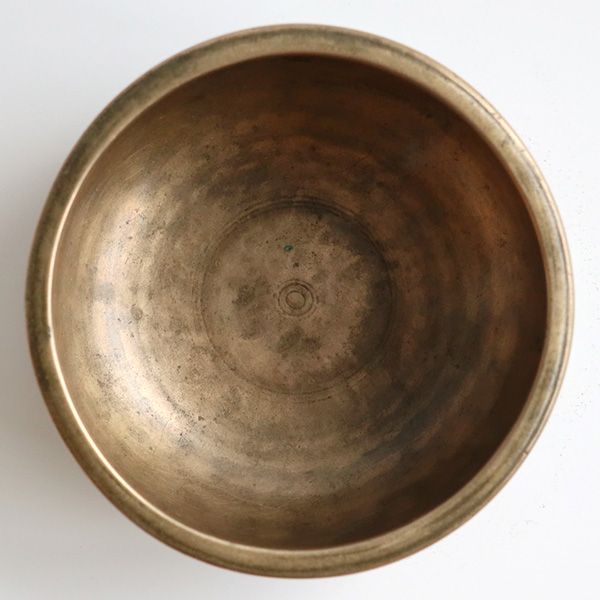 This tiny superior quality antique Thadobati Singing Bowl is a delight to hold and play. It has been superbly crafted; with thicker than average walls, a grooved lip, decorative circles at its slightly-mounded centre. There is a decorative line around its belly, and unusual dot-punched detailing along its rim fold.
The fundamental note is a G#5 (851Hz) when struck, and G#5 to A5 (851-858Hz) when played around the rim with a wooden ringer.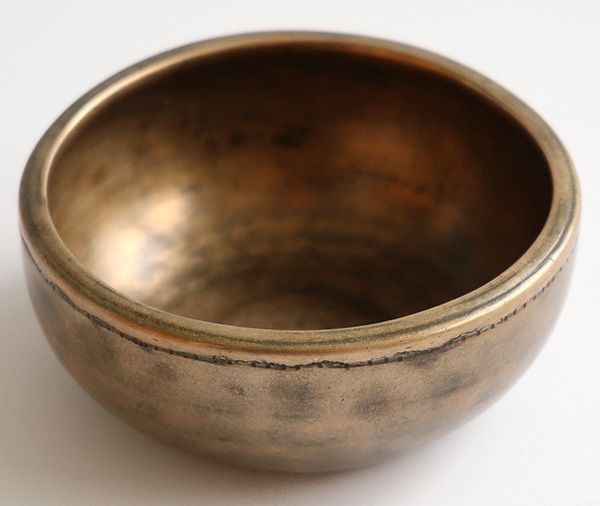 This is one of the finest little bowls I have come across. It fits comfortably in the palm of the hand and it has the look and feel of antiquity.
Unfortunately there is a barely-noticeable fine crack low down its wall that appears to have no impact on the sound, and I have significantly reduced its price accordingly.
A ringer is included in the price.
Note: Audio clips coming soon.