Pretty Antique Thadobati Singing Bowl – Eb4 & A5 – Inscription
---
---
Antique Thadobati Singing Bowl. Eb4 & A5 Solar Plexus & Third Eye Chakras)
Weight 1 lb 7 ¼ oz. (657g). Size 16.5 x 7.5 cm (approx. 6 ½ x 3 inches)
Antique Thadobati Singing Bowl. Eb4 & A5 Solar Plexus & Third Eye Chakras)
Weight 1 lb 7 ¼ oz. (657g). Size 16.5 x 7.5 cm (approx. 6 ½ x 3 inches)
A medium size and rather pretty antique Thadobati Singing Bowl with a distinctive feminine feel to it. The fundamental note is a middle Eb (302Hz) when struck and 306Hz when played around the rim with a suede ringer. The rim note changes to an excellent concert pitch fifth octave A (881Hz) if a wooden ringer is employed. This 19th century singing bowl also benefits from a nice inscription, a fair indication that it was held in high esteem.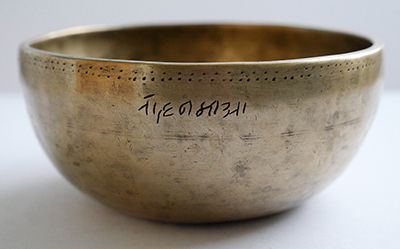 It has smooth walls, a grooved lip, circles at the centre, and two rows of small punched dots form a decorative collar below the rim.
This bowl fits comfortably in the palm of the hand and it feels nice to hold and play.
The condition of this bowl is good. It has a nice golden colour and is clean inside and out. A Tibetan silk brocade bowl cushion and a double ended teak and suede ringer are included in the price.
{audio}thado657eb4.mp3{/audio}
Listen: (2 struck notes and 2 played notes, suede then wood ringers)