Pretty Round-Bottomed Decorated Antique Manipuri Singing Bowl – B5 (978Hz)
---
---
Antique Manipuri Singing Bowl. B5 (978Hz) Crown Chakra
Weight 1 lb 0 ½ oz (470 grams). 15 x 6.5 cm (approx. 6 x 2 ½ inches)
Antique Manipuri Singing Bowl. B5 (978Hz) Crown Chakra
Weight 1 lb 0 ½ oz (470 grams). 15 x 6.5 cm (approx. 6 x 2 ½ inches)
This is a very pretty premium quality round-bottomed antique Manipuri Singing Bowl. It is a responsive bowl with an excellent fifth octave B fundamental (978Hz) and a nice E4 harmonic (335Hz).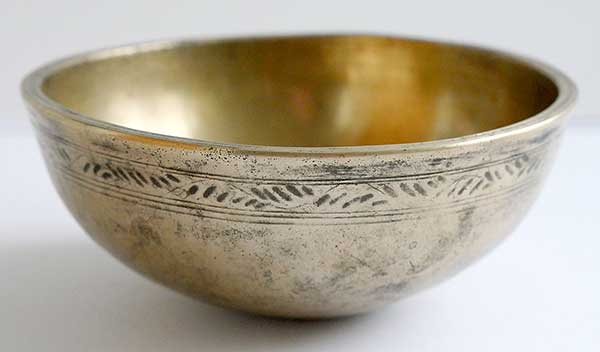 It's a beautifully proportioned and has a grooved lip and thick walls that gently splay towards the rim. Apart from its lovely shape it features a very attractive decorative border below the outer rim…a series of precisely placed ritual gashes set within a band of incised lines (these gashes are typically found more randomly, or hurriedly, distributed around the outer walls of some old bowls).
This bowl is in excellent condition, clean and smooth to the touch, and fits comfortably in the palm of the hand for playing. A Tibetan silk brocade bowl cushion and a ringer are included in the price. It would make a very nice gift for someone special!
Note: Audio clips coming soon.