Rare 18th Century F4 Singing Bowl – Inscribed 'Tears"
---
---
Antique Singing Bowl. F4 (355/6Hz) – Heart Chakra
Weight 1.45 kilos (3 lb 3 oz). Size 21 x 8 cm (8 ¼ x 3 ¼ inches)
Antique Singing Bowl. F4 (355/6Hz) – Heart Chakra
Weight 1.45 kilos (3 lb 3 oz). Size 21 x 8 cm (8 ¼ x 3 ¼ inches)
This is a really lovely old bowl dating from the 18th century and with the look and feel of antiquity. It has a rather lovely Jambati-like form, but with a low profile. The walls are smooth and exceptionally thick and heavy, and the lip and rim are of a type found in early bowls. The lip is a real feature of this bowl…wide, thick, and grooved. There are circles at its centre. It benefits from an excellent and extraordinary inscription that has been translated as 'Tears'.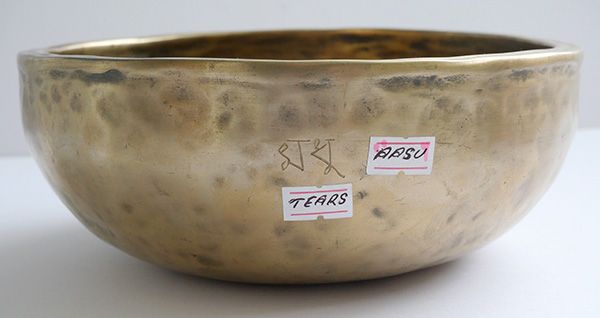 The fundamental note is a middle F (355/5Hz) whether struck or played around the rim.
There is ample evidence of this bowl's long life, with surface fractures and bruises here and there, but it remains structurally sound. It has a nice feel to its surface and is a delight to hold and play. A Tibetan silk brocade bowl cushion and a double-ended teak and suede ringer are included in the price.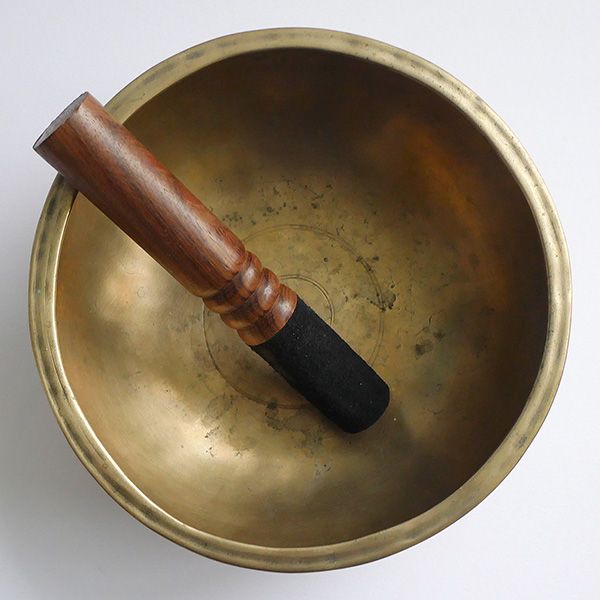 Note: Audio clips coming soon.