Rare 18th Century Singing Bowl – Eb4 (318Hz) with Inscription
---
---
Antique Singing Bowl. Eb4 (318Hz) Solar Plexus Chakra
Weight 1 lb 15 oz (833 grams). 20 x 7.5 cm (approx. 8 x 3 inches)
Antique Singing Bowl. Eb4 (318Hz) Solar Plexus Chakra
Weight 1 lb 15 oz (833 grams). 20 x 7.5 cm (approx. 8 x 3 inches)
This is a very rare and rather beautiful 18th century singing bowl. Its fundamental note is a nice middle Eb (318Hz) when struck with a padded mallet or played around the rim.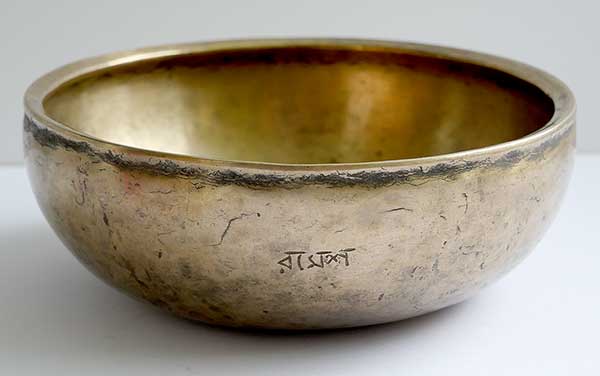 This is a relatively shallow bowl with an unusual faintly grooved lip that slopes down towards the basin. Its distinctive outer rim is of a type commonly found in early bowls, and there are well-defined decorative circles at its centre. It benefits from a nice little inscription engraved on its outer wall; a sure sign of the high esteem in which it was held by a former keeper.
This lovely old bowl clearly shows signs of wear after a long life of service, but it remains structurally sound and has the look and feel of great antiquity.
A Tibetan silk brocade bowl cushion and a double-ended teak and suede ringer are included in the price.
Note: Audio clips coming soon.