Rare 8 ½" Golden Antique Lingam Singing Bowl – D4 & G#5
---
---
Antique Lingam Singing Bowl. D4 (287Hz) & G#5 (Sacral & Throat Chakras)
Weight 2 lb 13 ½ oz. (1.29 kilos). Size 21.5 x 8 cm (8 ½ x 3 inches)
Antique Lingam Singing Bowl. D4 (287Hz) & G#5 (Sacral & Throat Chakras)
Weight 2 lb 13 ½ oz. (1.29 kilos). Size 21.5 x 8 cm (8 ½ x 3 inches)
This rare and beautiful golden bronze Lingam Singing Bowl is believed to date from the 18th century, and was clearly forged by a master craftsman. Antique bowls of this quality are few and far between.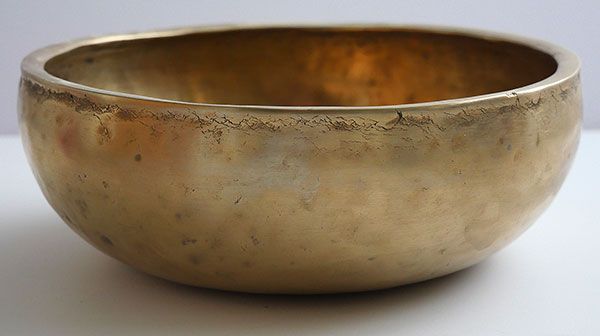 It has a truly pure and lovely middle D (287Hz) fundamental with a gentle pulse when struck with a padded mallet or played around the rim with a suede ringer. The rim note changes to an excellent fifth octave G# if played with a wooden ringer.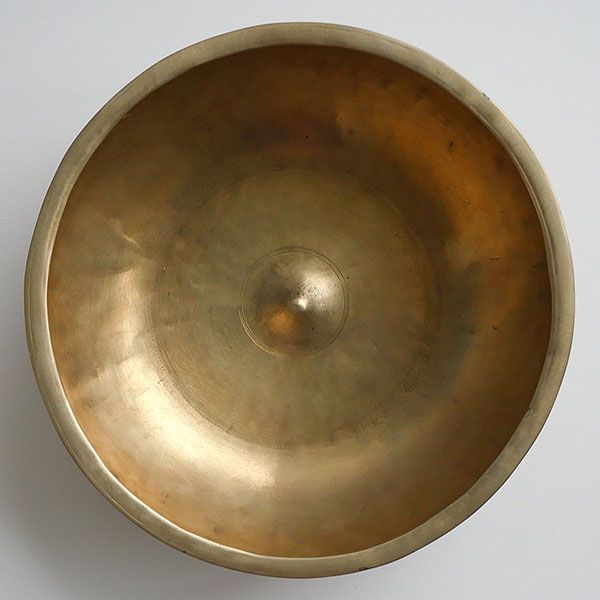 It has a relatively low profile, a gracefully curved wall and a wide triangulated lip. Circles surround the lingam at its centre, and there is a deep navel underneath. There is a tiny nick in the rim that doesn't affect the playing edge so the sound quality remains excellent.
The bowl is in good structural condition and remarkably clean and stain free having been polished at some time. Its hammered walls, now smooth, have a wonderful rich golden bronze colour . It comes with a Tibetan silk brocade bowl cushion, a striker and a ringer.
A rare and beautiful antique Lingam singing bowl!
{audio}lingam1.29d4.mp3{/audio}
Listen: (2 struck notes and 2 played notes, suede ringer then wood)