Rare 9" Antique Singing Bowl – Concert Pitch A3 (219.5Hz)
---
---
Rare Antique Singing Bowl A3 (219.5Hz) Third Eye Chakra
Weight 1.53 kilos (3lb 6 oz). Size 23 x 10 cm (approx. 9 x 4 inches)
Rare Antique Singing Bowl A3 (219.5Hz) Third Eye Chakra
Weight 1.53 kilos (3lb 6 oz). Size 23 x 10 cm (approx. 9 x 4 inches)
This lovely antique singing bowl has a wonderful pulsating perfect pitch voice in an uncommon and sought-after note, a third octave A (219.5Hz). The note is the same when struck or played around the rim.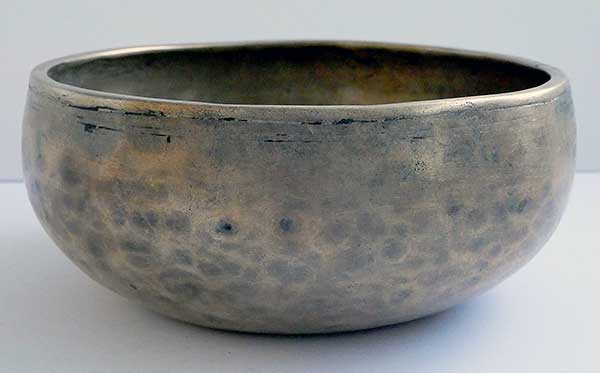 It's a beautiful bowl too, with its low profile and gracefully curved wall that features attractive subtle hammer markings. Inside a pair of circles defines the place where the wall rises gracefully from its flat bottom. A couple of incised lines form a collar below the rim.
This rare bowl has been expertly crafted and is in excellent condition, clean and structurally sound. It has a fabulous bronze colour and the look and feel of antiquity.
A Tibetan silk brocade bowl cushion and a ringer are included in the price.
{audio}uthado1530a3.mp3{/audio}
Listen: (3 struck notes and 2 played notes, suede ringer then wood)