Rare 9-inch Ultabati Singing Bowl – Concert Pitch Bb2 (117Hz) – Superb
---
---
Antique Ultabati Singing Bowl. Bb2 (117Hz) Crown Chakra
Weight 2 lb 1 oz. (936 grams). Size 23 x 11 cm (9 x 4 ¼ inches)
Antique Ultabati Singing Bowl. Bb2 (117Hz) Crown Chakra
Weight 2 lb 1 oz. (936 grams). Size 23 x 11 cm (9 x 4 ¼ inches)
Ultabati bowls are known for their caldron-like form, their remarkable vibrant energy, and their ability to produce very low notes that resonate at a frequency that will produce fountains when played with a little water inside. This interesting bowl is no exception.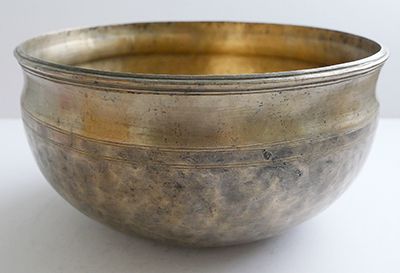 This is a medium size antique Ultabati and easier to hold and play that the larger ones. The fundamental note is a low and virtually concert pitch second octave Bb (117Hz) with an F4 (340) harmonic. It is a responsive bowl and very easy to play.
This Ultabati has been very finely forged and is in very good structural condition. It has the downward sloping grooved lip and hipped body associated with this bowl form, with finely incised decorative banding outside and circles inside. It has a beautiful exterior…with contrasting surfaces above and below the shoulder. It is a very lovely golden bronze colour.
A Tibetan silk brocade bowl cushion, a padded striker, and a teak and suede ringer are all included in the price.
Note: Audio clips coming soon.