Rare & Exceptional Antique Lingam Singing Bowl – D5 with Inscription
---
---
Antique Lingam Singing Bowl – D5 (581Hz) Sacral Chakra
Weight 725 grams (1 lb 9½ oz). Size 5 3/4 x 2 1/4 inches (14.5 x 6 cm)
Antique Lingam Singing Bowl – D5 (581Hz) Sacral Chakra
Weight 725 grams (1 lb 9½ oz). Size 5 3/4 x 2 1/4 inches (14.5 x 6 cm)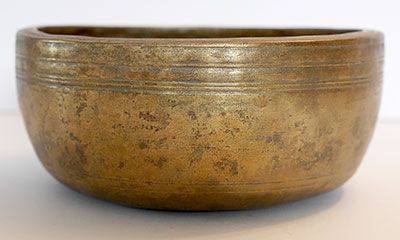 This is a superb and exceptionally rare antique Lingam singing bowl with an excellent voice in an uncommon note…a fifth octave D with a frequency ranging from 577-581Hz. The note is the same whether struck or played around the rim. It is very responsive and easy to play.
This Lingam bowl has been beautifully crafted. It is unusually thick and heavy for its size, and has lots of finely incised detail. It has fairly straight sides and a flat bottom, rather like a Thadobati, and a bold grooved, flat, and inward-facing lip. There is a superb pointed lingam at its centre, surrounded and defined by multiple concentric circles, and a deep navel on the underside. It is generously decorated with incised bands that form a collar around the outer rim, and there are more bands encircling the bottom of the wall.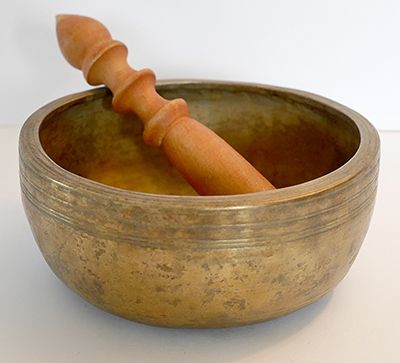 An extremely rare feature of this bowl is the inscription on its outer wall. Less than 1 in 80 antique Lingam bowls carry an inscription, and this is only the 3rd one I have come upon in 30 years of collecting.
Inscriptions, which may be a name, date, dedication or mantra, are a fair indication of the high esteem in which a previous keeper held the bowl. Inscriptions always add interest and value.
This rare, fabulous and fascinating Lingam singing bowl probably dates from the 18th century. It is in excellent structural condition and has the look, feel and patina of antiquity. A Tibetan silk brocade bowl cushion and a ringer are included in the price.
{audio}lingam1040d5.mp3{/audio}
Listen: (2 struck notes and 1 played note)