Rare & Extraordinary Antique Lingam Singing Bowl – A3/Bb3
---
---
Antique Lingam Singing Bowl. Notes: A3/Bb3 (Third Eye & Crown Chakras)
Weight 918 grams (2 lb 0 ½ oz). Size 19 x 7 cm (7 ½ x 2 ¾ inches)
Antique Lingam Singing Bowl. Notes: A3/Bb3 (Third Eye & Crown Chakras)
Weight 918 grams (2 lb 0 ½ oz). Size 19 x 7 cm (7 ½ x 2 ¾ inches)
This rare antique Lingam Singing Bowl has an extraordinary shape that in profile is a little like a shortened bell. At the center of its flat and well-defined floor is a large lingam surrounded by circles, with a small but deep navel or yoni underneath. There are decorative lines encircling both sides of the rim, and also around the midpoint of the outer wall. The unique shape of this beautifully crafted and superior Lingam bowl suggests that it served a particular purpose beyond singing.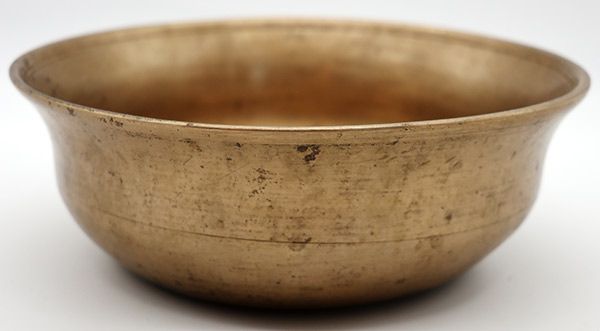 The struck fundamental varies according to the hardness of the striker. A hard wooden striker will produce a third octave A3 (222Hz) while a soft padded mallet elicits a third octave Bb3 (228Hz). The rim note is A3 when played with a suede ringer.
This rare Lingam Singing Bowl is in superb structural condition, and has a bright golden bronze colour.
A Tibetan silk brocade bowl cushion and a double-ended teak and suede ringer are included in the price.
Note: Audio clips coming soon.