Rare & Extraordinary Antique Pot-Shaped Lingam Singing Bowl – G4 (400Hz)
---
---
Antique Lingam Singing Bowl. Note: G4 (throat Chakra)
Weight 1 lb 7 ¾ oz. (672 grams). Size 16.5 x 10 cm (6 ½ x 4 inches)
Antique Lingam Singing Bowl. Note: G4 (throat Chakra)
Weight 1 lb 7 ¾ oz. (672 grams). Size 16.5 x 10 cm (6 ½ x 4 inches)
A rare and extraordinary antique pot-shaped Lingam Singing Bowl with a globular body and a wide grooved and flanged lip. There is a pointed lingam at its centre surrounded by circles and a matching yoni or naval underneath.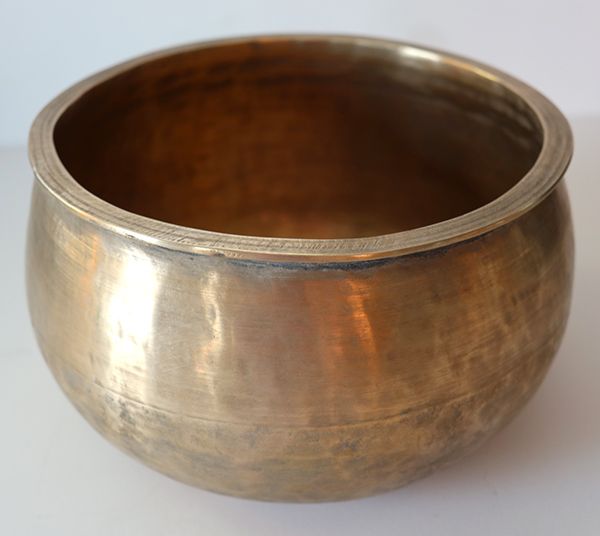 The fundamental note is an excellent middle G (400Hz) when struck with a padded mallet or played around the rim with a ringer. The shape of the bowl appears to amplify the sound.
The structural condition of this unusual antique lingam singing bowl is excellent. It is free of stains and blemishes and has a lovely bright golden bronze colour.
A Tibetan silk brocade bowl cushion, a padded striker and a teak and suede ringer are included in the price.
Note: audio clips coming soon.