Rare & Fabulous Antique Singing 'Growling' Bowl – Vibrant Energetic Fountains
---
---
Antique Singing & Fountain Bowl. Notes F2 & B3 (Heart & Crown Chakras)
Weight 1.68 kilos (3 lb 11 ¼ oz). Size 26.5 x 9 cm (10 ½ x 3 ½ inches)
Antique Singing & Fountain Bowl. Notes F2 & B3 (Heart & Crown Chakras)
Weight 1.68 kilos (3 lb 11 ¼ oz). Size 26.5 x 9 cm (10 ½ x 3 ½ inches)
This rare, large, and superbly crafted shallow flat-bottomed singing bowl has a fabulous low second octave F voice (90Hz) when struck, and a great third octave B3 (240Hz) when played around the rim. This alone would be sufficient to make it a very desirable singing bowl.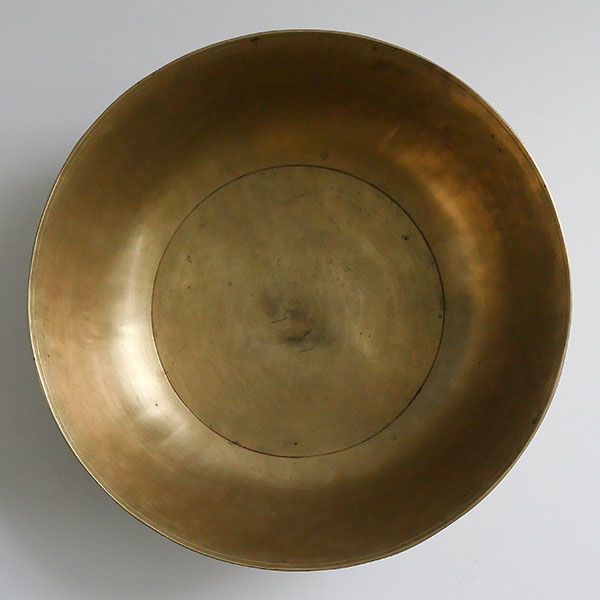 However, its incredible vibrant energy also makes it one of the best fountain bowls I have come across…with water leaping right out of the basin! And its size and shape would make it an ideal bowl to demonstrate this phenomenon to others.
Furthermore, playing it with water inside, using a suede ringer, produces an extraordinary energetic 'growling' sound to accompany the fountains.
This large relatively shallow bowl has very finely crafted walls that faintly splay towards the rim, and an unusually wide and well-defined flat bottom. Its only decorative feature is a single line encircling the inner rim.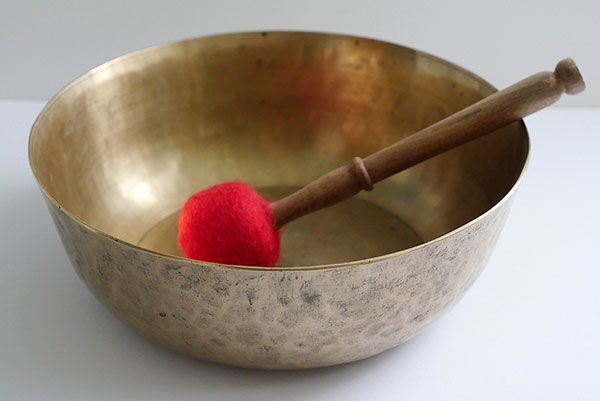 The physical condition of this extraordinary singing fountain bowl is excellent in all respects. Its unusual form sets it apart from most singing bowls, and it is a delight to hold and play. Bowls of this type are employed by shaman.
A Tibetan silk brocade bowl cushion, a padded striker, and a ringer are all included in the price.
{audio}shaman1.68.mp3{/audio}
Listen: (3 struck notes and 2 played notes, suede then wood)