Rare & Wonderful Antique Thadobati Singing Bowl – B3 (251Hz)
---
---
Antique Thadobati Singing Bowl – Note B3 (251Hz) Crown Chakra
Weight 1.31 kilos (2 lb 14 oz). Size 8 x 4 inches (20.5 x 10 cm
Antique Thadobati Singing Bowl – Note B3 (251Hz) Crown Chakra
Weight 1.31 kilos (2 lb 14 oz). Size 8 x 4 inches (20.5 x 10 cm
)
This is a fabulous old Thadobati singing bowl with a wonderful B3 voice. The struck note is particularly beautiful and has a long sustain. The rim note is also very nice and easy to play. A ringer is included in the price.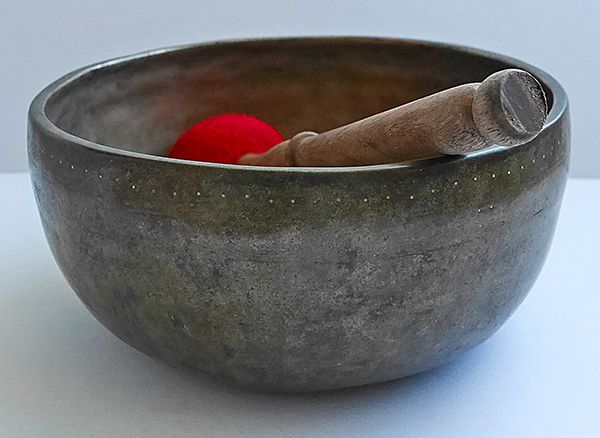 This is quite a large bowl for a Thadobati, and its thick walls make it heavy for its size. It probably dates from the 18th century and most of its decorative features have been worn down with use over the years. These include circles at its centre and a necklace of suns (punched dots surrounded by a circle) around the outer rim, with downward pointing triangles composed of suns at intervals around the bowl. All that remains of these sun motifs are the dots at their centre (their original punch being deeper than the surrounding circle).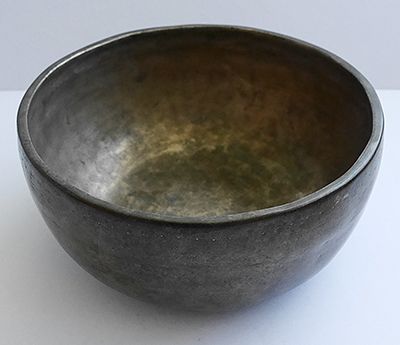 This bowl is in excellent structural condition, clean and blemish free. It has a deep golden brown bronze colour and the look and feel of great antiquity, and comes highly recommended!
{audio}thado1310b3.mp3{/audio}
Listen: (3 struck notes and 1 played note)