Rare and Exceptionally Versatile Antique Thadobati Singing, Talking & Fountain Bowl
---
---
Antique Thadobati Singing & Talking Bowl. Note: F#3 & C5 (Heart & Root Chakras)
Weight 1.01 kilos (2 lb 3 ½ oz). Size 20 x 10 cm (8 x 4 inches)
Antique Thadobati Singing & Talking Bowl. Note: F#3 & C5 (Heart & Root Chakras)
Weight 1.01 kilos (2 lb 3 ½ oz). Size 20 x 10 cm (8 x 4 inches)
This is a very versatile antique Thadobati Singing Bowl with exceptional talking and fountain abilities when played with a little water inside. The fundamental note is a very nice third octave F#3 (183Hz) when struck or played around the rim with a suede ringer. The rim note changes to a fifth octave C5 (528Hz) with a wooden ringer.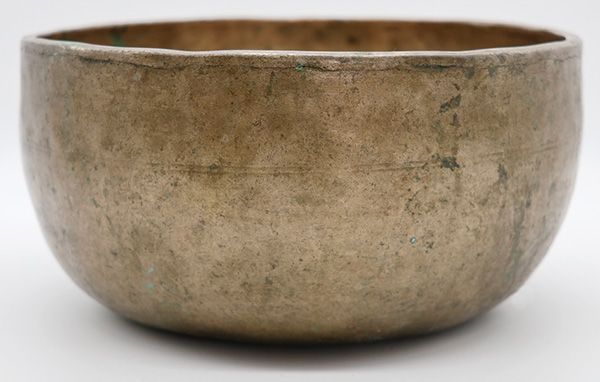 This beautifully proportioned bowl is a perfect example of the Thadobati form with its flat bottom and fairly straight high-sided wall being half the length of its diameter. It has the pie-lip sometimes found on older bowls, boldly incised circles at its centre, and a pair of decorative lines below the outer rim.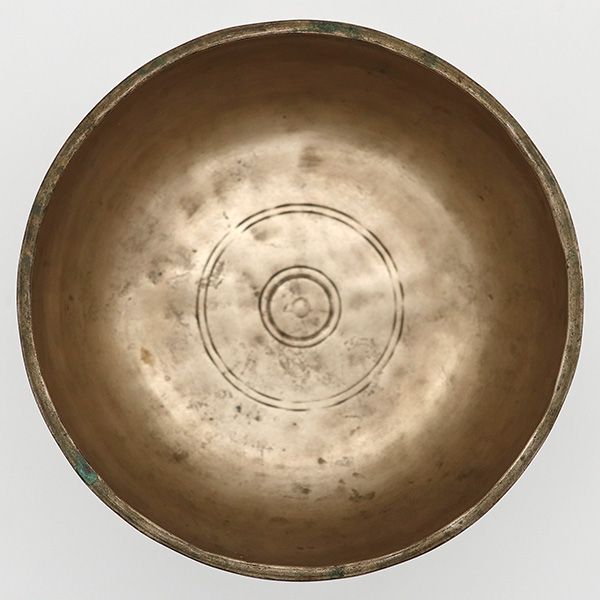 This antique bowl is in superb condition, clean and stain-free, with an attractive aged patina. A wonderful bowl!
A Tibetan silk brocade bowl cushion and a double-ended teak and suede ringer are included in the price.
{audio}thado1-01.mp3{/audio}
Listen: (3 struck notes and 2 played notes, suede ringer then wood)