Rare and Extraordinary Antique Lingam Singing Bowl – F#4 (379Hz)
---
---
Antique Lingam Singing Bowl. D#4 (379Hz) Heart Chakra
Weight 2 lb 2½ oz (0.98 kilos). Size 17 x 9 cm (approx. 6¾ x 3½ inches)
Antique Lingam Singing Bowl. D#4 (379Hz) Heart Chakra
Weight 2 lb 2½ oz (0.98 kilos). Size 17 x 9 cm (approx. 6¾ x 3½ inches)
This rare antique Lingam Singing Bowl has an extraordinary shape the like of which I have seen only seen once before in a similar but Larger Lingam. It's a difficult shape to describe so in this instance I will let the pictures do the talking.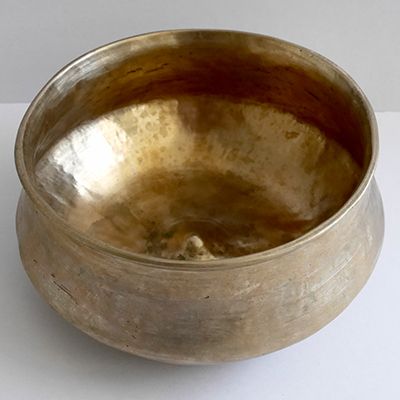 It is quite heavy for its size and probably dates from the 17th or possibly the 18th century. It has a large pointed lingam surrounded by circles at its centre, and a deep navel underneath. It is in good structural condition, clean and golden on the outside but with some light stains inside.
This bowl benefits from a small inscription on the outer wall, suggesting that it was highly regarded by a former keeper.
The fundamental note is a fluctuating middle F# (379 – 360Hz) whether struck with a padded mallet or played around the rim. However, the rim note is temperamental and needs coaxing to sing, and for that reason I have decided to reduce thr price accordingly. A change of ringer might make all the difference.
A Tibetan silk brocade bowl cushion, a small padded striker and a ringer are all included in the price.
Note: Audio clips coming soon.