Rare and Graceful Antique Singing Bowl – G#3 (212Hz)
---
---
Unusual Antique Singing Bowl. G#3 (212Hz) Throat Chakra
Weight 1 lb 9 ½ oz (722 grams). 17.5 x 7 cm (approx. 7 x 2 ¾ inches)
Unusual Antique Singing Bowl. G#3 (212Hz) ThroatChakra
Weight 1 lb 9 ½ oz (722 grams). 17.5 x 7 cm (approx. 7 x 2 ¾ inches)
This is an unusual and well proportioned antique bowl with superbly forged fine walls that gently splay towards the rim. Its flat inside floor is sharply defined and bordered by an incised circle. The only other decorative feature is a fine line running high up around the inner rim.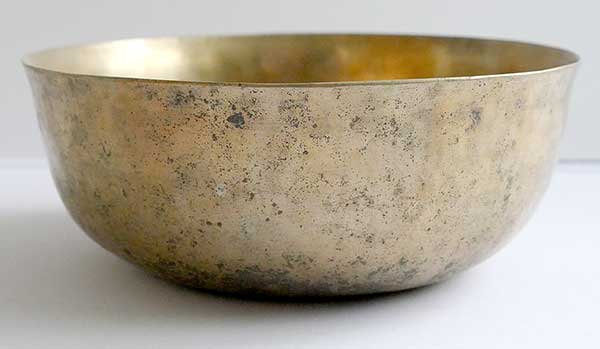 The fundamental note is a nice third octave G# (213Hz) with an A3 (214-216Hz) harmonic when struck or played around the rim with a suede ringer. The rim note changes to a fifth octave D (582Hz) if a wooden ringer is used.
The graceful simplicity of this bowl with its fine walls makes it one of my favorites. It has a lovely golden antique bronze colour and is in superb condition inside and out. A Tibetan silk brocade bowl cushion and a ringer are included in the price.
{audio}uthado722.mp3{/audio}
Listen: (2 struck notes and 1 played note)