Rare Antique 'Genie' Singing Bowl – Powerful G#4 & Inscription
---
---
Antique Singing Bowl. G#4 (Throat Chakra)
Weight 1 lb 8 oz. (678 grams). Size 18 x 11.5 cm (7 x 4 ½ inches)
Antique Singing Bowl. G#4 (Throat Chakra)
Weight 1 lb 8 oz. (678 grams). Size 18 x 11.5 cm (7 x 4 ½ inches)
This interesting antique bowl with its rare globular form is in excellent condition for its age. It has an antique golden bronze colour and is free of stains and blemishes. This is an old bowl and any decorative features it may once have possessed have been worn away with use over time. However, it does carry a nice two-line inscription set between a pair of peacocks around the outer wall; a sure sign that a former keeper held this bowl in high esteem.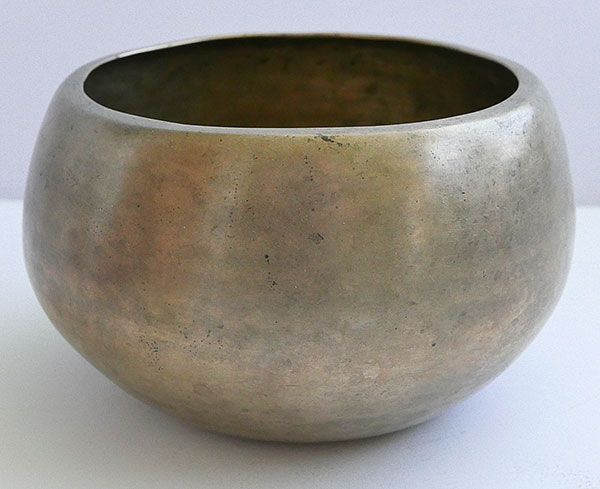 The fundamental note is a powerful middle G# (410Hz) when struck, and 414Hz to 417Hz when played around the rim depending upon the type of ringer employed. This frequency includes concert pitch G#4 at 415.3Hz. It is a responsive bowl and easy to play.
The unique shape of this old bowl results in a unique sound quality. My personal preference is the excellent struck note, but when one plays around the rim the sound appears to build inside the bowl…and once it gets going it becomes directional and escapes from its open mouth like a genie in a bottle!
A Tibetan silk brocade cushion and a double-ended teak and suede ringer are included in the price.
Note: Audio clips coming soon.