Rare Antique Himalayan Tiger Phurba 9 ¼ inches (23.5 cm)
---
---
Rare Antique Himalayan Tiger Phurba 5¾ inches (23.5 cm)
Rare Antique Himalayan Tiger Phurba 5¾ inches (23.5 cm)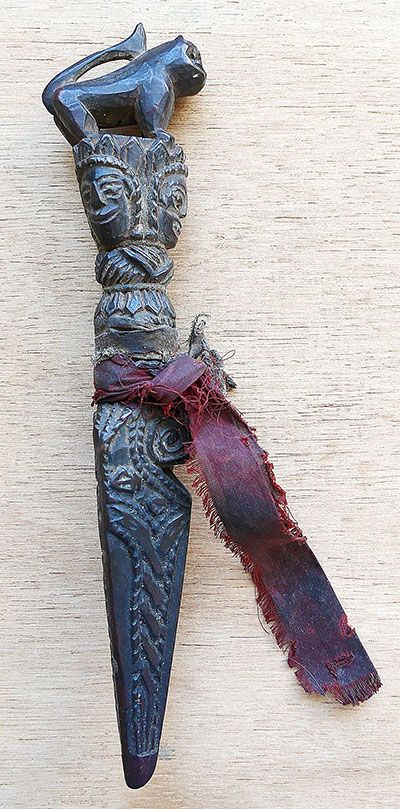 This is an antique rosewood Tiger Phurba of a type favoured by Himalayan Shaman for healing and energetic work.
This ritual dagger features a standing tiger with its mouth wide open and long tail flicked across its back. Each leg is carved separately with spaces between. It stands upon the crowned head of a three-faced deity, each face having a different expression. It has a dorje hilt with two endless knots and a rope-decorated Makara above the three-sided blade.
There are entwined serpents or Nagas on each facet of the blade, and a variety of nicely carved motifs including a hand bell, sacred bumpa water vessel, bow and arrow, dorje, and sun, moon and star. Parts of the hilt been tightly bound with cotton thread and torn fragments of talismanic cloth.
This 19th century wooden Phurba is in perfect condition…perhaps a little dust encrusted, but would easily clean. It has the patina, look and feel of a genuine shamanic ritual tool.
I was recently asked to grip a similar phurba between my hands during a shamanic healing ritual in Nepal.