Rare Antique Lingam Singing Bowl – B3/C4 – Lovely Graceful Shape
---
---
Antique Lingam Singing Bowl. Notes: B3 & C4 (Crown & Root Chakras)
Weight 851 grams (1 lb 14 oz). Size 19.5 x 10.5 cm (7 ¾ x 4 inches)
Antique Lingam Singing Bowl. Notes: B3 & C4 (Crown & Root Chakras)
Weight 851 grams (1 lb 14 oz). Size 19.5 x 10.5 cm (7 ¾ x 4 inches)
This attractive antique singing bowl has the external appearance and profile of a top quality small Jambati bowl with its gracefully curved wall, rounded bottom, triangulated lip and decorative incised collar. So it comes as a big surprise to discover it's actually an antique Lingam Singing Bowl with a lingam at its centre and a matching navel or yoni underneath. A very rare combination of these two lovely bowl forms indeed!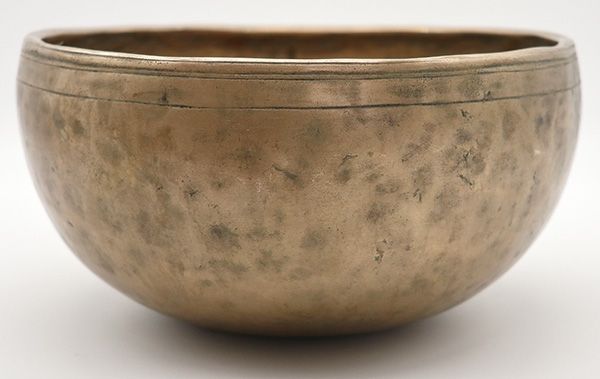 The fundamental note is a third octave B3 (252Hz) when struck with a padded mallet or played around the rim with a suede ringer…with the rim note quickly developing into, or accompanied by, a middle C4 (255Hz).
This rare and exceptionally beautiful antique Lingam Singing Bowl is in excellent structural condition, clean and stain-free, with an aged patina.
A Tibetan silk brocade bowl cushion, a padded striker, and a double-ended teak and suede ringer are all included in the price.
{audio}lingam851.mp3{/audio}
Listen: (2 struck notes and 2 played notes, suede ringer then wood)