Rare Antique Lingam Singing Bowl – Bb3 with E5 Harmonic Duet
---
---
Antique Lingam Singing Bowl – Bb3 (232-233Hz) Crown Chakra
Weight 0.97 kilos (2 lb 2¼ oz). Size 7 x 3¾ inches (18 x 9.5 cm)
Antique Lingam Singing Bowl – Bb3 (232-233Hz) Crown Chakra
Weight 0.97 kilos (2 lb 2¼ oz). Size 7 x 3¾ inches (18 x 9.5 cm)
This is a wonderful old antique Lingam Singing Bowl of the high-sided flat-bottomed Thadobati type dating from the 18th or 19th century. This bowl has given long service and its outer wall has suffered numerous scuffs, surface scars, and dig or cuts, some of which may have been of a deliberate ritual nature. By contrast the interior is smooth, clean and shiny…a bright golden bronze.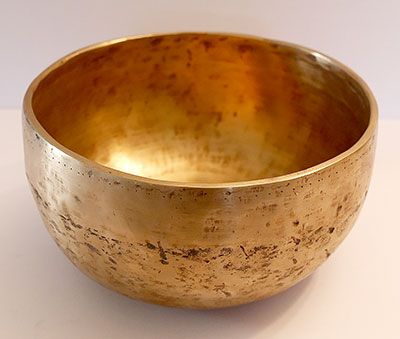 There is a perfect nipple-like lingam at its centre, and a deep navel on the underside. It has a plain rim encircled by a decorative band of tiny dots that are a common feature on older bowls of this type. The structural condition of this characterful antique Lingam bowl is excellent, and it is clean and stain-free.
This bowl has an excellent third octave Bb voice (232-233Hz) that is very close to concert pitch when struck with a padded mallet or played around the rim with a suede or wooden ringer. The rim note is particularly nice as the Bb3 is accompanied by a fifth octave E (655Hz) in a beautiful duet. A Tibetan silk brocade bowl cushion and a ringer are included in the price.
{audio}lingam970bb3.mp3{/audio}
Listen: (3 struck notes and 2 played notes, suede then wood ringer)