Rare Antique Lingam Singing Bowl – Beautiful F3 (179Hz) & Inscription
---
---
Antique Lingam Singing Bowl – F3 (179Hz) Heart Chakra
Weight 1.12 kilos (2 lb 7 ¼ oz). Size 8 x 4 inches (20.5 x 10cm)
Antique Lingam Singing Bowl – F3 (179Hz) Heart Chakra
Weight 1.12 kilos (2 lb 7 ¼ oz). Size 8 x 4 inches (20.5 x 10cm)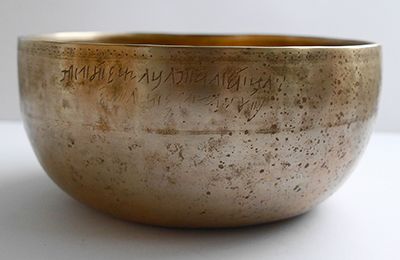 This is a large fine-walled antique Lingam singing bowl with a superb third octave F voice when struck with a padded mallet or played around the rim with a suede ringer. It's a responsive bowl and the played note is particularly beautiful.
This lovely old bowl dates from around 1800 and has clearly been well used in its lifetime as the circles inside have been worn away, and the decorative pattern below the outer rim is now faint. However, it is clean and structurally sound, and has an attractive golden colour.
This bowl features two excellent inscriptions on the outer wall, one above the other, and probably done at different times by two former keepers. This is a very unusual, particularly as few lingam bowls carry inscriptions.

A Tibetan silk brocade bowl cushion and a double-ended teak and suede ringer are included in the price.
Note: Audio clips coming soon.