Rare Antique Lingam Singing Bowl – Concert Pitch C#4 – Inscription
---
---
Antique Lingam Singing Bowl. Note: C#4 (Root Chakra)
Weight 983 grams (2 lb 2 ¾ oz). Size 17 x 9 cm (6 ¾ x 3 ½ inches)
Antique Lingam Singing Bowl. Note: C#4 (Root Chakra)
Weight 983 grams (2 lb 2 ¾ oz). Size 17 x 9 cm (6 ¾ x 3 ½ inches)
This attractive medium size Antique Lingam Singing Bowl (circa 1850) takes the high-sided Thadobati form and has a grooved lip, a neat pointed Lingam surrounded by circles at its centre, and a matching navel or yoni underneath. Two bands of dots encircle the outer rim to form a decorative collar.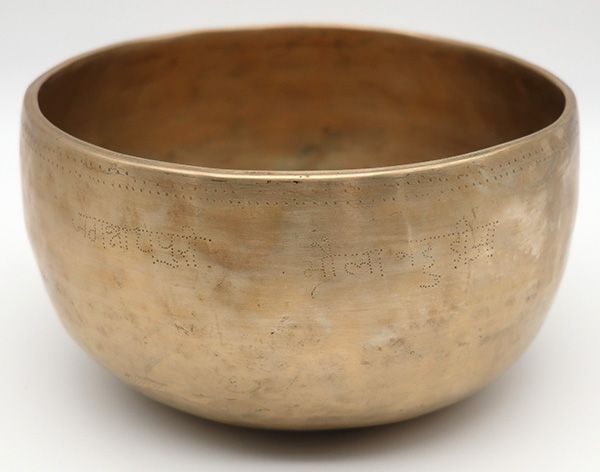 It benefits from an uncommon and well-preserved dot-punched inscription on the outer wall…a sure sign of the high esteem in which this bowl was held by a former keeper.
The fundamental note is a nice concert pitch C#4 (276/7Hz) when struck with a padded mallet or played around the rim with a suede ringer
This rare Lingam bowl is in excellent structural condition and has an attractive golden bronze colour.
A Tibetan silk brocade bowl cushion, and a double-ended teak and suede ringer are included in the price.
{audio}lingam983c.mp3{/audio}
Listen: (2 struck notes and 1 played note)