Rare Antique Lingam Singing Bowl – D4 (289Hz) – Suns – Inclusions
---
---
Antique Lingam Singing Bowl. Notes: D4 & G#5 (Sacral & Throat Chakras)
Weight 716 grams (1 lb 9 ¼ oz). Size 17.5 x 8.5 cm (7 x 3 ¼ inches)
Antique Lingam Singing Bowl. Notes: D4 & G#5 (Sacral & Throat Chakras)
Weight 716 grams (1 lb 9 ¼ oz). Size 17.5 x 8.5 cm (7 x 3 ¼ inches)
This is a lovely example of an 18thor early 19thcentury lingam singing bowl. Although the note sometimes starts as a C#4 (285Hz) it has a middle D (289Hz) fundamental when struck with a padded mallet or played around the rim with a suede ringer. The rim note changes to a high fifth octave G# (826Hz) with a wooden ringer.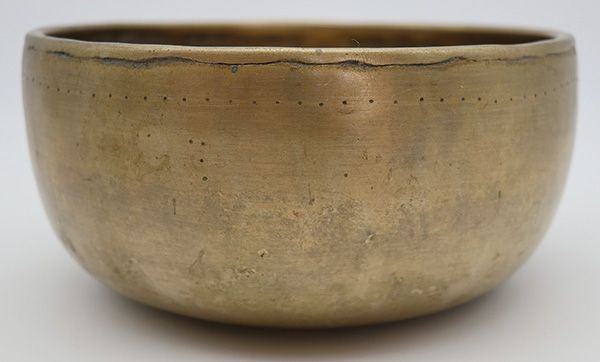 This is a beautifully proportioned bowl that is sensually smooth to hold and as good to look at as it is to play. It features a folded lip typical of the period, and has an excellent lingam at its centre and matching navel or yoni underneath.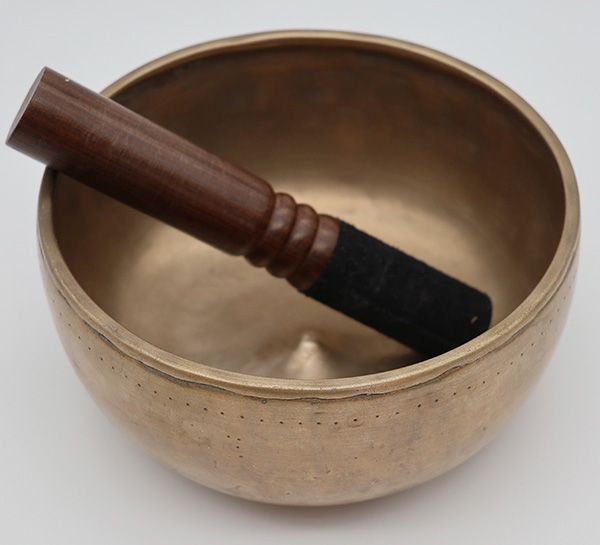 A single chain of suns (dots surrounded by circles) decorates the outer rim, with triangles of downward facing suns at intervals around the wall. However, due to age, wear and ritual cleaning, virtually all that remains of this decoration today are the deeper central dots.
This antique lingam singing bowl is structurally sound and free of stains. There are a number of tiny inclusions (specs of dust or grit) present in the outer wall that were accidently added to the molten metal; evidence of the primitive conditions under which this ancient bowl was forged. It has a nice aged patina, and the look and feel of antiquity.
A Tibetan silk brocade bowl cushion, and a double-ended teak and suede ringer are included in the price.
{audio}lingam716.mp3{/audio}
Listen: (3 struck notes and 2 played notes, suede ringer then wood)