Rare Antique Mounded Centre Singing Bowl – Distinctive Voice & Glorious Colour
---
---
Antique Singing Bowl. Notes Eb3 & A5 (Solar Plexus & Third Eye Chakras)
Weight 624 grams (1 lb 6 oz). Size 19 x 8.5 cm (7 ½ x 3 ¼ inches)
Antique Singing Bowl. Notes Eb3 & A5 (Solar Plexus & Third Eye Chakras)
Weight 624 grams (1 lb 6 oz). Size 19 x 8.5 cm (7 ½ x 3 ¼ inches)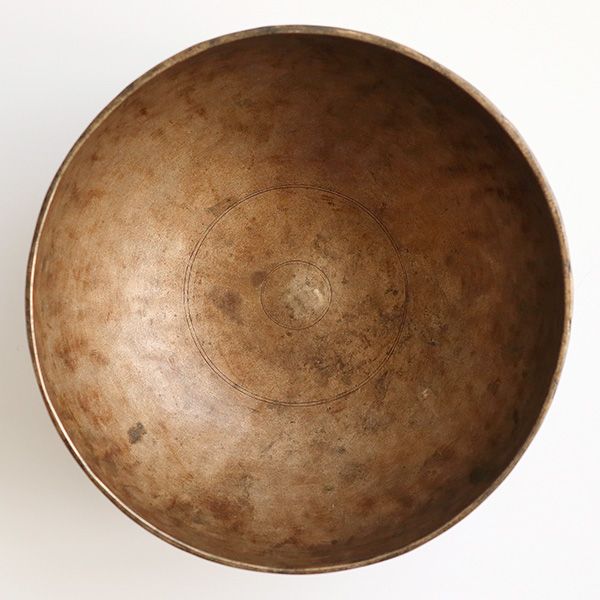 This really is a beautiful bowl – a medium-size antique singing bowl with a glorious colour. It has the lovely curved form of a Jambati with a rounded bottom, but features an unusual mounded-lingam center with a matching depression underneath that contributes to its distinctive voice.
The fundamental note is a low third octave Eb (152Hz) when struck with a padded mallet and a middle Bb (454Hz) or rare fifth octave A (873Hz) depending on the ringer employed.
This is a well-forged bowl with finely hammered walls, a sheered lip, and decorative circles inside and around the outer rim. It is clean and structurally sound, with a polished exterior that shows off it's extraordinarily beautiful deep dark bronze colour and patina. It's simply stunning!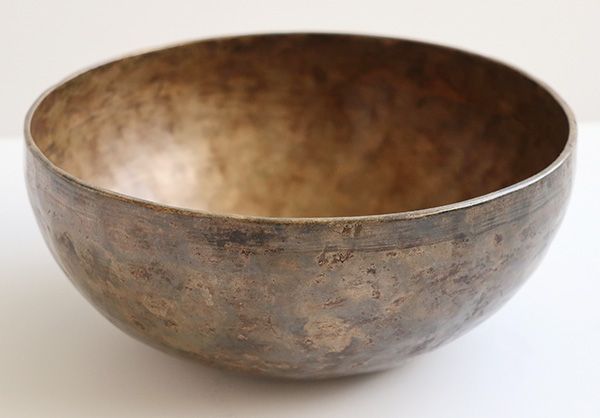 A Tibetan silk brocade bowl cushion and a ringer are included in the price.
Note: Audio clips coming soon.