Rare Antique Remuna-Lingam Singing & exceptional TALKING Bowl – Lovely F#3/G3
---
---
Antique Lingam Singing & Talking Bowl. Notes F#3/G3 (Heart & Throat Chakras)
Weight 935 grams (2 lb x 1 oz). Size 19 x 8 cm (7 ½ x 3 ¼ inches)
Antique Lingam Singing & Talking Bowl. Notes F#3/G3 (Heart & Throat Chakras)
Weight 935 grams (2 lb x 1 oz). Size 19 x 8 cm (7 ½ x 3 ¼ inches)
This is a very rare and beautiful antique Remuna-Lingam bowl…a Lingam with the body shape of a Remuna. Both bowl types have distinctive voices and are rare and sought-after, but this is the first combination of these two forms that I have encountered in 30 years of collecting. Furthermore, in addition to its unique form and fabulous singing voice it also possesses exceptional talking ability!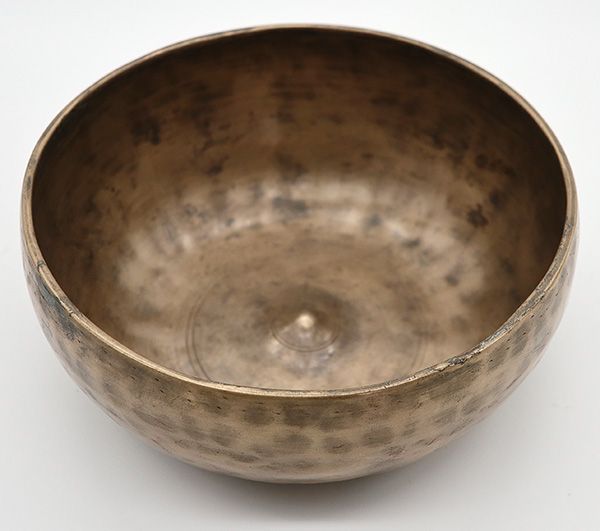 The fundamental note is midway between a third octave F#3 and G3 (190Hz – 192Hz) and therefore hovers between the two when struck or played around the rim with a suede ringer. It's a very lovely sound. The rim note changes to a high sixth octave C#6 (1083Hz) with a wooden ringer. However, this bowl also had exceptional talking ability when rocked back and forth or played with a little water inside.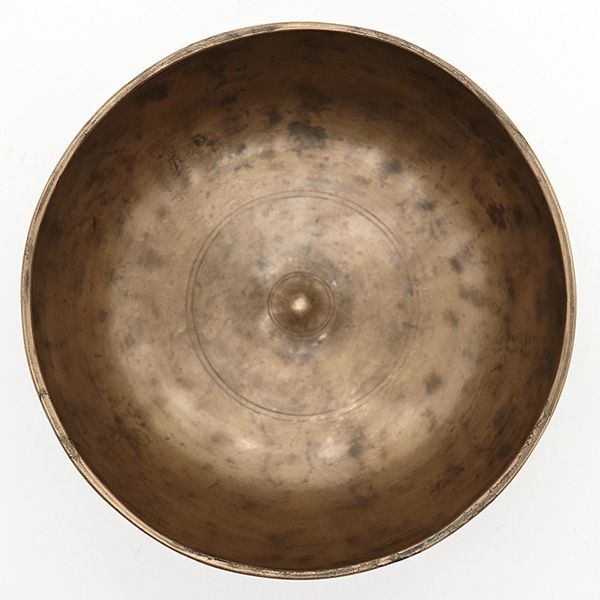 This is a beautiful bowl to look at and handle, as well as play. It has fine, sensually smooth and gracefully curved walls, and an even sheared lip that was once grooved. There is a perfect lingam at its centre surrounded and defined by a pair of circles, with a second pair of circles some distance away. Underneath there is a nice deep navel or yoni. Two decorative bands of tiny cuts encircle the outer rim.
This fabulous bowl is believed to date from the early 1800s. It is structurally sound, clean and stain-free, and has the most wonderful antique bronze colour.
An exceptional and very rare and desirable antique Remuna-Lingam Singing and Talking Bowl!
A Tibetan silk brocade bowl cushion and a double-ended teak and suede ringer are included in the price.
Note: Audio clips coming soon.