Rare Antique Remuna Singing Bowl – B3 (243-245Hz)
---
---
Antique Remuna Singing Bowl. Note B3 (243-245Hz) Crown Chakra
Weight 663 grams (1 lb 7 ½ oz). Size 17 x 8.5 cm (6 ¾ x 3 ¼ inches)
Antique Remuna Singing Bowl. Note B3 (243-245Hz) Crown Chakra
Weight 663 grams (1 lb 7 ½ oz). Size 17 x 8.5 cm (6 ¾ x 3 ¼ inches)
This is a nice example of this uncommon and sought-after bowl form with a lovely third octave B fundamental (245Hz) when struck, and 243Hz when played around the rim with a suede ringer. The rim note changes to a fifth octave F (687Hz) with a wooden ringer. It is very responsive and a easy to hold and play.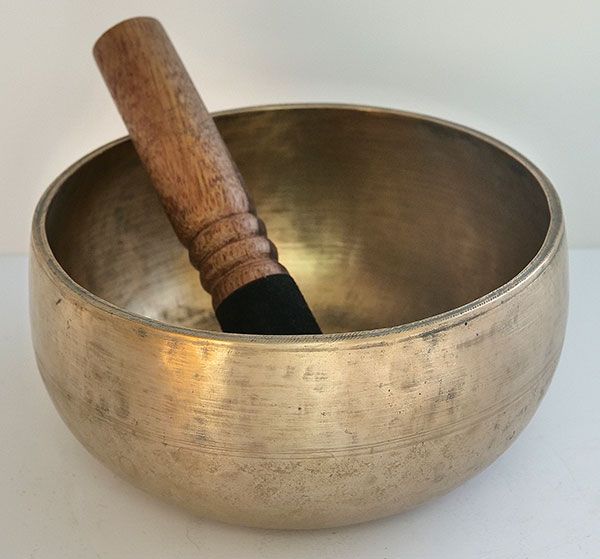 This bowl has smooth even walls and a grooved lip. There are circles at its centre, and decorative lines encircling the rim and around its belly.
It is in excellent structural condition, clean and virtually free of stains and blemishes, with a nice golden colour.
A Tibetan silk brocade bowl cushion and a double-ended teak and suede ringer are included in the price.
Note: Audio clips coming soon