Rare Antique Remuna Singing Bowl – G3 (192Hz) & Inscription
---
---
Antique Remuna Singing Bowl. Note G3 (192Hz) – Throat Chakra
Weight 719 grams (1 lb 9 ½ oz). Size 18 x 8.5 cm (7 ¼ x 3 ¼ inches)
Antique Remuna Singing Bowl. Note G3 (192Hz) – Throat Chakra
Weight 719 grams (1 lb 9 ½ oz). Size 18 x 8.5 cm (7 ¼ x 3 ¼ inches)
A nice example of this uncommon and sought-after bowl form with a lovely third octave G fundamental (192Hz) that readily transforms to a fifth octave C (527Hz) when played around the rim with a suede ringer. It is very responsive and a delight to hold and play.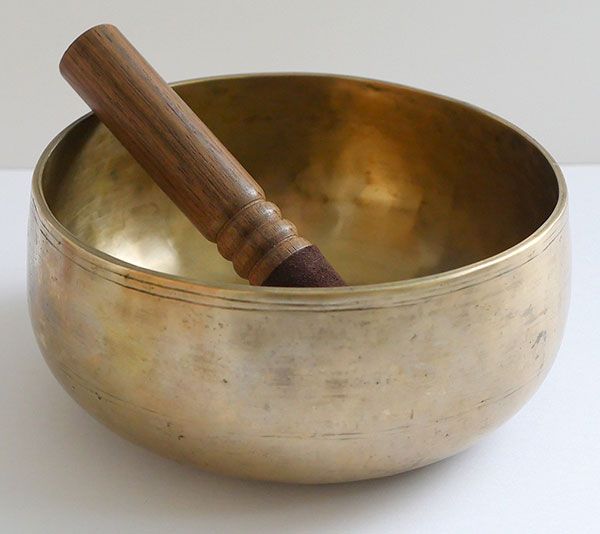 This bowl has smooth walls inside and out, a small circle at its centre, and decorative lines encircling the rim and around its belly, all of which are now quite faint. An unusual feature is the inscription on the outer wall…something seldom seen on Remuna bowls.
This bowl is in excellent structural condition for its age. It is clean, virtually free of stains and blemishes, and has a nice golden colour.
A Tibetan silk brocade bowl cushion and a double-ended teak and suede ringer are included in the price.
{audio}remuna719.mp3{/audio}
Listen: (3 struck notes and 1 played note)