Rare Antique Resting Bell or Hand Gong – C#5 (564Hz)
---
---
Antique Resting Bell or Hand Gong
Weight: 3 lb 1 oz (1.30 kilos). Size: 9 ½ x 2 ¼ inches (24 x 6 cm)
Antique Resting Bell or Hand Gong
Weight: 3 lb 1 oz (1.30 kilos). Size: 9 ½ x 2 ¼ inches (24 x 6 cm)
At first sight this would appear to be an unusual antique singing bowl, as there are a few with a similar form, but I believe it to be a rare Resting Bell or Hand Gong. It is virtually impossible to play around the rim, but comes spectacularly into its own when struck.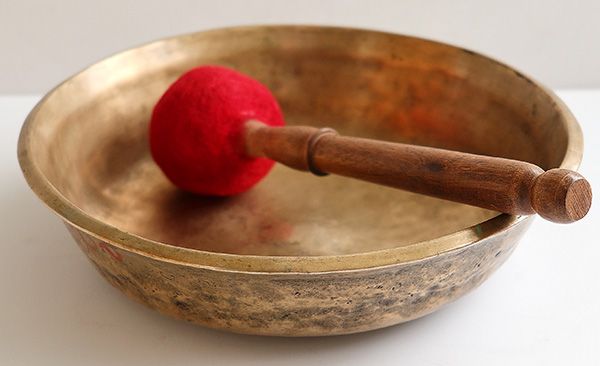 If struck on the rim with a padded mallet the note is a soft third octave G# (203Hz), but when a hard striker is employed it becomes a powerful resounding bell-like fifth octave C# (564Hz). Tapping the raised mound at its centre will produce a C5 beat that works perfectly with the alternating rim note, especially the G#.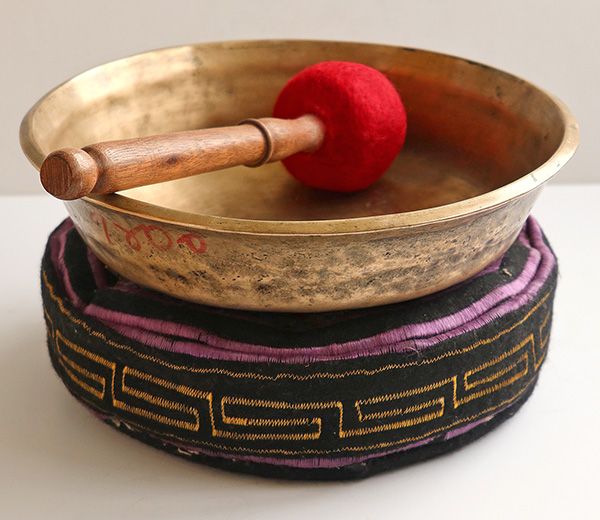 This is a heavy hand-forged instrument with thick walls and a splayed rim with a downward-sloping lip. There is a large raised mound at its centre for striking.
It is in excellent structural condition, free of stains and blemishes, and has an antique golden bronze colour with an aged patina.
A Tibetan silk brocade cushion, a striker, and a ringer are all included in the price.
Note: Audio clips coming soon.