Rare Antique Shaman Lingam Singing Bowl – E3 (163Hz)
---
---
Antique Shaman Lingam Singing Bowl. Note E3 (162-163Hz) Solar Plexus Chakra
Weight 938 grams (2 lb 1 oz). Size 22 x 6 cm (8 ¾ x 2 ¼ inches)
Antique Shaman Lingam Singing Bowl. Note E3 (162-163Hz) Solar Plexus Chakra
Weight 938 grams (2 lb 1 oz). Size 22 x 6 cm (8 ¾ x 2 ¼ inches)
This rare shallow antique singing bowl with its button lingam was recently sourced in Nagaland in North East India, a region known for its diverse tribal cultures, deep shamanic and tantric traditions, and some of the last headhunters. It is one of several similar bowls acquired during my recent trip to Nepal, and I very much doubt I will find another.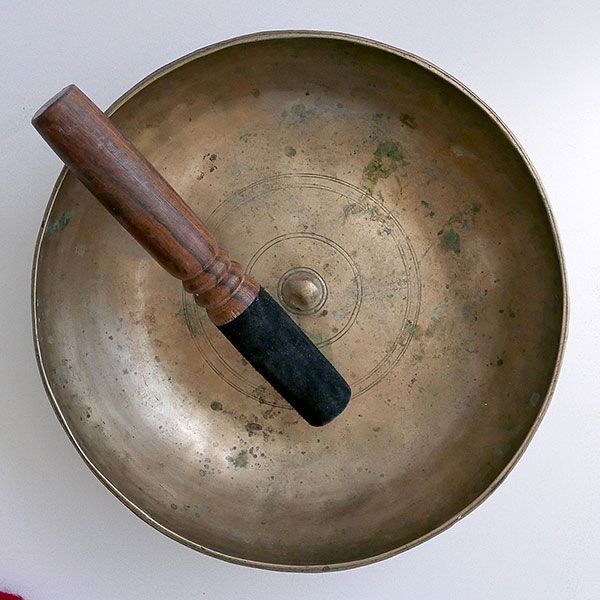 The fundamental note is a third octave E (162-163Hz) when struck with a padded mallet or played around the rim with a suede ringer. The rim note changes to a middle B (484Hz) if a wooden ringer is employed.
Its boldly beaten outer wall has an attractive patina that contrasts well with the smooth interior. It has a grooved lip, and the small button lingam at its center is surrounded by 3 sets of concentric circles. There is a tiny navel underneath. It is in very good structural condition, and most of the surface dirt and grime seen in the photo below could be removed with a good clean.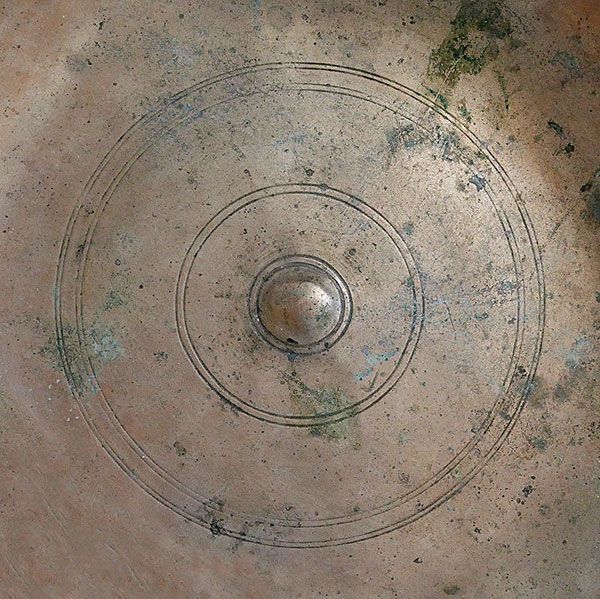 This antique bowl is of a type used by shaman on ritual or ceremonial occasions, and will therefore be of particular interest to practitioners and collectors. It has the look and feel of antiquity and purpose. A Tibetan silk brocade bowl cushion and a ringer are included in the price.
{audio}lingam938e3.mp3{/audio}
Listen: (3 struck notes and 1 played note)