Rare Authentic Chepang Shaman's Hand Drum
---
---
Rare Authentic 19th Century Chepang Shaman Drum
Diameter 17 ¾ x 6 ½ inches (45 x 16.5 cm) plus Chains.
Rare Authentic 19th Century Chepang Shaman Drum
Diameter 17 ¾ x 6 ½ inches (45 x 16.5 cm) plus Chains.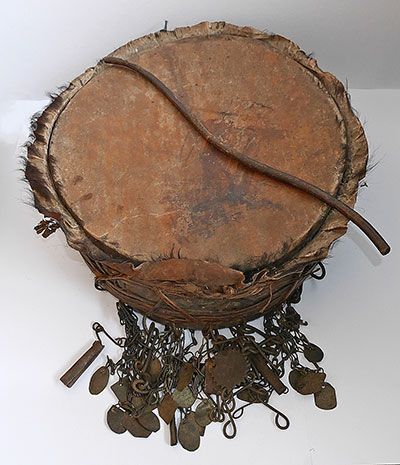 This is a very rare museum quality shamanic ritual drum from the remote Nepalese tribal group known as the Chepang.
It is a large single-sided hand drum that is held by two wooden struts bound with rattan.
The lower part of the drum features numerous chains of varying lengths that hang down and jingle when the drum is played or shaken. Many of these chains end in flat hand-cut iron shapes. There are also a couple of cylindrical iron bells.
This drum, dating from the 19th century (possibly earlier), is in remarkable museum quality condition for its age. The wooden frame is sound and the skin is taunt and unbroken across the playing surface…and to my ear it makes a good sound when struck with the wooden beater that came with it. It might, therefore, if handled with care, appeal to a 21st century shamanic practitioner or drummer!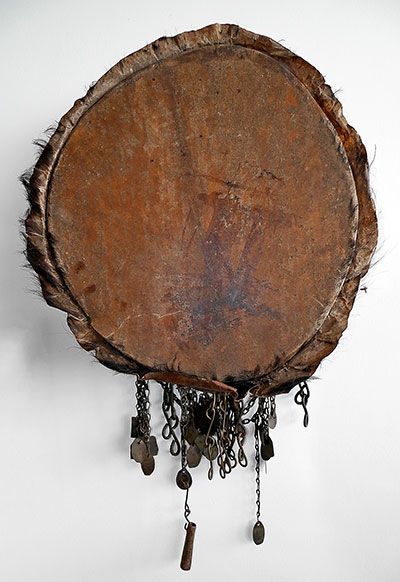 It is undoubtedly the finest Himalayan shaman's drum of its kind I have encountered in 30 years of collecting, and would make a wonderful addition to any private collection or museum of Himalayan ritual objects.
Unrepeatable!