Rare Chepang Shaman Drum With 16 Magical Amulets
---
---
Large Antique Chepang Shaman Drum – Nepal
Size: Approx. 42 x 20 cm (16 ½ x 8 inches). Weight: 3.5 kilos (7 lb 11 ½ oz)
Large Antique Chepang Shaman Drum – Nepal
Size: Approx. 42 x 20 cm (16 ½ x 8 inches). Weight: 3.5 kilos (7 lb 11 ½ oz)
The Chepang are a remote indigenous ethic group of semi-nomadic people living in central and southern Nepal, and this large drum would have been made and used by a Chepang shaman in the late 19th or early 20th century.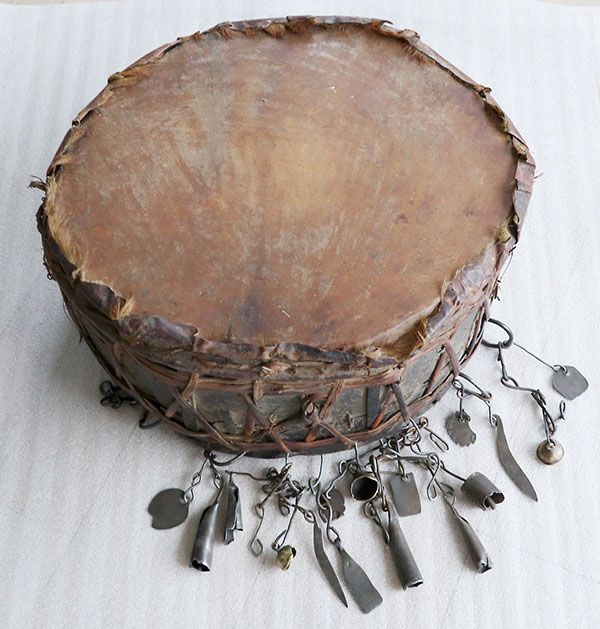 Chepang drums are the medium through which the shaman communicates with supernatural forces and are therefore considered sacred. Various iron hangings, amulets, attached to the back at the top of the drum hold great power and offer protection against attacks from malefic spirits and demons.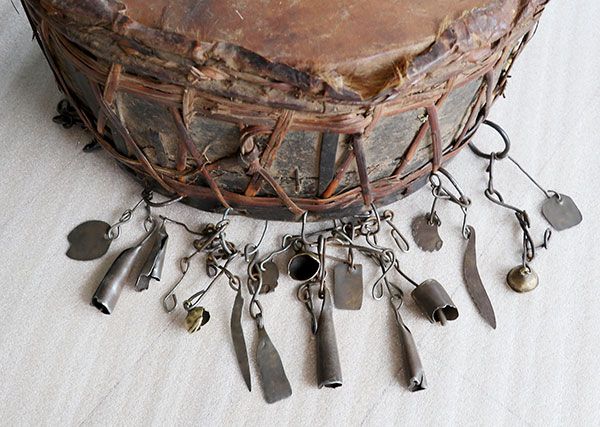 The frame of this Chepang Drum is made from the wood of the local Sandan tree and rattan, and reinforced on the inside with patches of flattened metal and large iron pins. The membrane is attached to one side only and made of goat or deer hide. The drum is held by chains and an internal cross at the back made from wood bound in rattan. This particular drum features multiple iron chains with 16 different symbolic magical amulets including bells, sickles, discs, etc.
It is in remarkably good condition for its age and plays extremely well. A Chepang drumstick is included.
"The shaman's drum has numerous functions – as a musical instrument, as a pacemaker of ritual dances, as a vehicle on which the shaman travels through space, as a defensive and assault weapon against negative powers, and as a diagnostic and prognostic instrument" Paraphrased excerpt from Michael Oppitz research.
Note: Audio clips coming soon.