Rare Double-Thick 18th Century C#4 Thadobati Singing Bowl
---
---
Antique Tibetan Thadobati Singing Bowl. C#4 (Root Chakra)
Weight 3 lb 10 ¾ oz (1.65 kilos). 22 x 10 cm (approx. 8 ½ x 4 inches)
Antique Tibetan Thadobati Singing Bowl. C#4 (Root Chakra)
Weight 3 lb 10 ¾ oz (1.65 kilos). 22 x 10 cm (approx. 8 ½ x 4 inches)
This is a large and exceptionally thick and heavy 18th century Tibetan Thadobati Singing Bowl of the finest quality. It's hard to imagine how its double-thick walls were so evenly forged to create such a beautiful and regular form. And now, with use and the passage of time, its hammered outer surface has been worn satin smooth and acquired the colour and patina of antiquity. Its decorative features, if there were any, have been reduced to the faint grooves around its thick rim.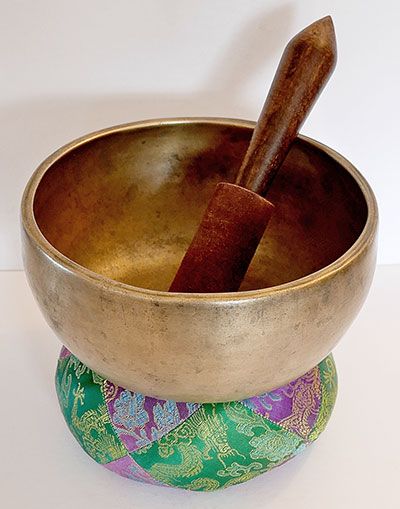 The fundamental note of this bowl is a lovely middle C# with a frequency around 273Hz.
The note is the same whether struck with a padded mallet or played around the rim with a suede ringer. A wooden ringer will produce a piercing and penetrating fifth octave G (781Hz).
This wonderful old bowl has a powerful physical presence. Its sheer size, weight, and simplicity of form, and its antique colour all combine to lend it a certain gravitas that is hard to ignore. It is in excellent structural condition.
In summary…a gorgeous singing bowl that would enhance any collection!
A Tibetan silk brocade bowl cushion and a padded mallet are included in the price.
{audio}thado1650c.mp3{/audio}
Listen: (4 struck notes and 2 played notes, suede then wood ringers)