Rare Golden Himalayan Ultabati Singing Bowl – Concert Pitch E3
---
---
Himalayan Ultabati Singing Bowl. E3 (165Hz) Solar Plexus Chakra
Weight 2 lb 14 oz (1.31 Kilos). 23 x 12 cm (approx. 9 x 4¾ inches)
Himalayan Ultabati Singing Bowl. E3 (165Hz) Solar Plexus Chakra
Weight 2 lb 14 oz (1.31 Kilos). 23 x 12 cm (approx. 9 x 4¾ inches)
A rare opportunity to buy a premium quality antique Himalayan Ultabati Singing Bowl with a perfect pitch voice…a third octave E (165Hz). This beautiful bowl has a fabulous shape and a glorious golden colour. It is also the perfect size and weight for hand-held playing.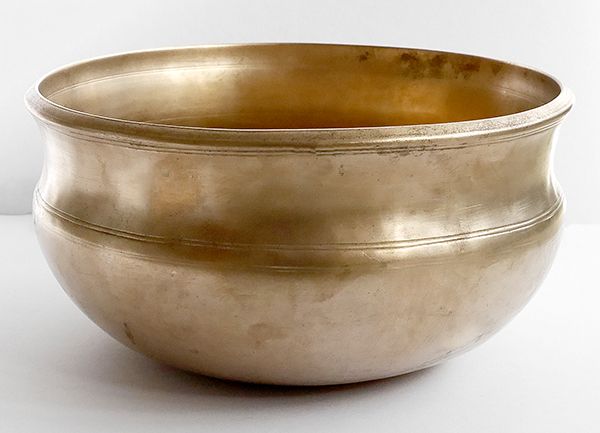 Ultabati bowls have a very distinctive caldron-like form with fine walls, a scooped or flared neck and an out-turned downward-sloping lip. This one is heavier and thicker than usual, more refined and also smaller in size…making it very rare indeed. It is structurally sound, clean on the outside but with some light stains inside.
This handsome bowl is very responsive and easy to play. The fundamental note is a low perfect concert pitch third octave E (165Hz) whether struck with a padded mallet or played around the rim. A Tibetan silk brocade bowl cushion, a padded striker and a ringer are all included in the price.
A fabulous antique Ultabati in a sought-after size…if you hesitate it will be gone!
{audio}ultabati1310e3.mp3{/audio}
Listen: (3 struck notes and 1 played note)