Rare Heavy C4 Antique Lingam Singing Bowl
---
---
Antique Lingam Singing Bowl. C4 (258Hz) Root Chakra
Weight 2 lb 14¾ oz. (1.32 kilos). Size 20 x 9.5 cm (approx. 8 x 3 ¾ inches)
Antique Lingam Singing Bowl. C4 (258Hz) Root Chakra
Weight 2 lb 14¾ oz. (1.32 kilos). Size 20 x 9.5 cm (approx. 8 x 3 ¾ inches)
This is a large, heavy, and characterful antique Lingam Singing Bowl with a particularly nice pointed lingam at its centre, surrounded by three concentric circles. It has a thick grooved lip. A pattern of tiny digs form a decorative collar close to the outer rim, and a single incised line encircles the outer wall about a third of the way down. Underneath there is a neat and symmetrical navel.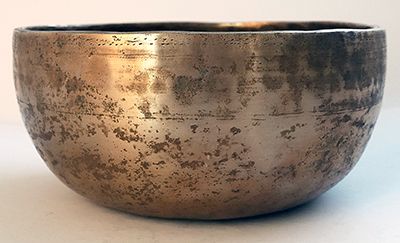 The fundamental struck note is a middle C (258Hz). The rim note is the same if a suede ringer is used, but this bowl responds better when a wooden ringer is employed, when the rim note becomes a fifth octave F# (742Hz).
This 19th century Lingam bowl is structurally sound. It has an attractive golden interior, while the outside has more surface variation and an aged patina.
A Tibetan silk brocade bowl cushion and a double-ended teak and suede ringer are included in the price.
{audio}lingam1320c.mp3{/audio}
Listen: (3 struck notes and 1 played note, wood)