Rare Huge & Heavy Jambati-Lingam Singing Bowl – F#3 (184Hz)
---
---
Antique Jambati-Lingam Singing Bowl – F#3 (184Hz) Heart Chakra
Weight 2.53 kilos (5 lb 9 oz) Size 10½ x 4¼ inches (26.5 x 11 cm)
Antique Jambati-Lingam Singing Bowl – F#3 (184Hz) Heart Chakra
Weight 2.53 kilos (5 lb 9 oz) Size 10½ x 4¼ inches (26.5 x 11 cm)
This huge and heavy antique bowl is something of an enigma in that it looks like a very large Jambati with all the physical characteristics of that bowl type…the body shape, the hammered walls, the bold triangulated lip and the decorative bands around the rim…until you discover the neat lingam at its centre, and the matching navel-like depression underneath!
Lingams, perhaps more than any other bowl type, come in a wide variety of shapes and sizes. I have seen Thadobati-Lingams, Manipuri-Lingams, and even a Mani-Lingam, but this is the first Jambati-Lingam I have encountered.
This old bowl is structurally sound and in excellent condition for its age, but it has seen a lot of use over the years and there are some areas of surface crazing on its outer wall. This is quite commonplace on old Jambati bowls and has no impact on their basic structural integrity or the quality of sound, which in this case is excellent.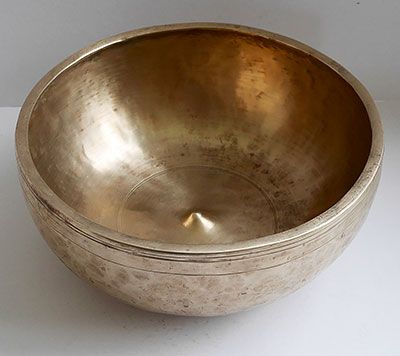 The fundamental struck note is a really lovely third octave F# that is virtually perfect pitch. The rim note is the same pulsating F#3 when played with a suede ringer. A padded mallet and a heavy suede ringer are included in the price.
A rare large and distinctive antique Jambati-Lingam Singing Bowl with a fabulous concert pitch voice!
{audio}lingam2530f3.mp3{/audio}
Listen: (2 struck notes and 1 played note)