Rare Inscribed Antique Shaman Divination Bowl
---
---
Rare Inscribed Antique Shaman Divination Bowl
Weight: 1 lb 10 ½ oz (748 grams). Size: 10 x 1 ¾ inches (25.5 x 4.5 cm)
Rare Inscribed Antique Shaman Divination Bowl
Weight: 1 lb 10 ½ oz (748 grams). Size: 10 x 1 ¾ inches (25.5 x 4.5 cm)
This antique Shaman Divination Bowl is the first of its kind to come into my possession in over 30 years of collecting singing bowls and Himalayan ritual items, although I have personally witnessed a shaman employing a similar bowl for divination with grains of rice by sifting, separating, and counting them.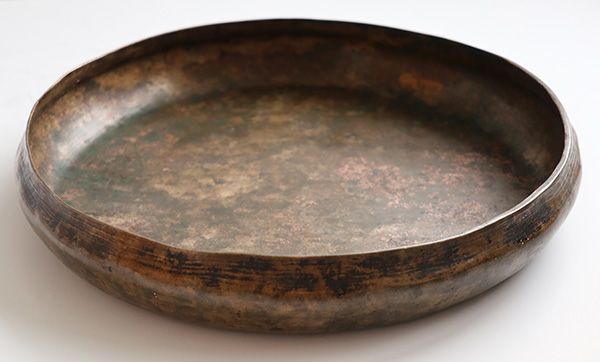 This shallow hand-beaten bronze bowl, approximately the diameter of a dinner plate, has a turned-in rim to prevent its contents from escaping. The small inscription inside is a fair indication of the high esteem in which its shaman owner held it. It probably dates from the 18thcentury and is in excellent condition for its age. It has a beautiful aged patina inside and out, and the look and feel of great antiquity.
This bowl is unlikely to have been used to produce sound like a singing bowl, but when struck the note is an interesting third octave C (128Hz) and a middle G (391Hz) when played around the rim. A small padded striker is included in the price.
This rare item will appeal to collectors of shamanic ritual objects and practitioners alike.