Rare Large 10 ½ " 18th Century Lingam Singing Bowl – Perfect Pitch F3 (175Hz)
---
---
Antique Lingam Singing Bowl. Note: F3 (Heart Chakra)
Weight 1.39 kilos (3 lb 1 oz). Size 27 x 10.5 cm (10 ½ x 4 ¼ inches)
Antique Lingam Singing Bowl. Note: F3 (Heart Chakra)
Weight 1.39 kilos (3 lb 1 oz). Size 27 x 10.5 cm (10 ½ x 4 ¼ inches)
This rare antique lingam bowl is so large (diameter 10 ½ inches) that it could easily be mistaken for a Jambati if viewed from the side. And indeed it shares some of the same physical characteristics of that larger bowl form with its triangulated lip and decorative bands encircling the outer rim. But the inside and underneath are unmistakably Lingam.
Its finely beaten walls make it light for its size. At its centre is a large pointed lingam surrounded and defined by a pair of circles, with another pair some distance away. The lingam is matched underneath by a deep navel or yoni. It is undoubtedly one of the oldest and largest lingam Singing Bowls I have encountered in over 30 years of collecting.
The fundamental note is an exceptionally beautiful perfect pitch third octave F#3 (184Hz) when struck with a padded mallet or played around the rim with a suede ringer.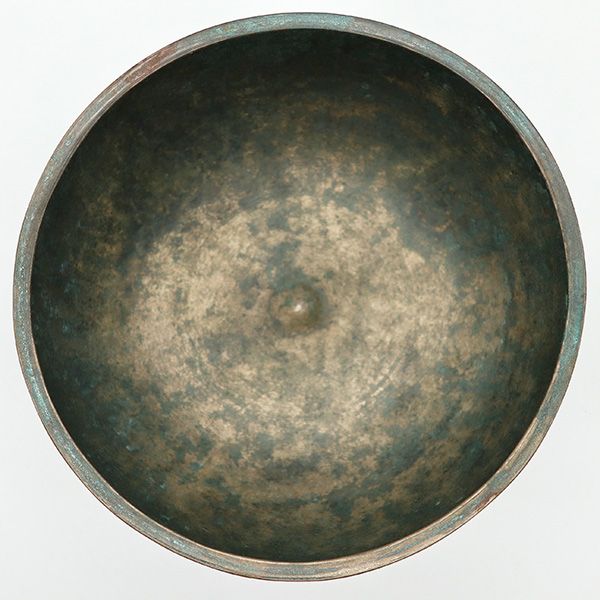 This fabulous rare Lingam Singing Bowl is thought to date from the 18thCentury and is in superb structural condition. It has a wonderful aged patina inside and out, and the look and feel of great antiquity. It was sourced in Nepal with another almost identical Lingam with a perfect pitch F#3, and the two bowls work very well as a matched pair.
A silk brocade Tibetan bowl cushion and a teak and suede ringer are uncluded in the price.
Note: Audio clips coming soon.