Rare Large 9 ¼" Antique Lingam Singing Bowl – C#3 & cpF#5 – Inscription
---
---
Antique Lingam Singing Bowl. Notes: C#3 & F#5 (Root & Heart Chakras)
Weight 1.55 kilos (3 lb 6 ½ oz). Size 23 x 10 cm (9 ¼ x 4 inches)
Antique Lingam Singing Bowl. Notes: C#3 & F#5 (Root & Heart Chakras)
Weight 1.55 kilos (3 lb 6 ½ oz). Size 23 x 10 cm (9 ¼ x 4 inches)
This is a rare large antique Lingam Singing Bowl dating from around 1850 with two excellent voices – a third octave C#3 (136Hz) when struck with a padded mallet or played around the rim with a suede ringer, and a concert pitch F#5 (740Hz) with a wooden one. There is also a G4 harmonic.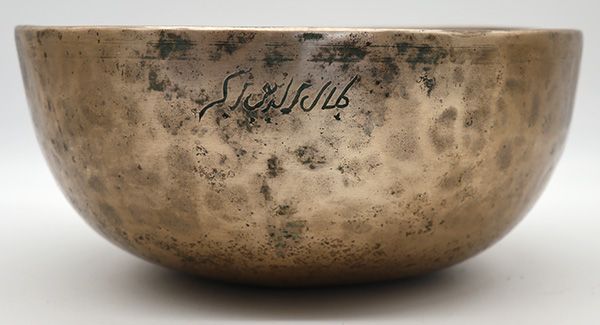 This unusually large Lingam bowl takes the Jambati form. It has finely hammered walls, a plain sheered lip with decorative bands encircling the outer rim, a pointed lingam surrounded by circles at its centre, and a deep matching yoni or navel underneath.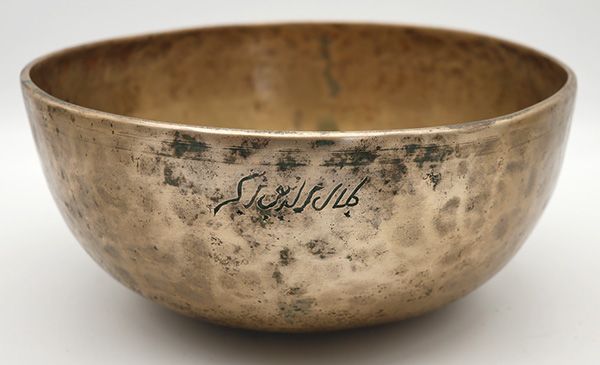 It benefits from a boldly engraved inscription on the outer wall. Inscriptions are rarely found on Lingam bowls, and add both interest and value. They are a fair indication of the high esteem in which a former keeper held a bowl.
This rare Lingam Singing Bowl is in good condition for its age but is supplied in its 'as found' condition. The outer wall is basically clean but the interior has small patches of oxidization and some splashes of green staining which I believe could be removed with a little effort. It has the look and feel of antiquity and an attractive deep golden bronze colour.
A Tibetan silk brocade bowl cushion and a double-ended teak and suede ringer are included in the price.
{audio}lingam1-55.mp3{/audio}
Listen: (4 struck notes and 2 played notes, suede ringer then wood)