Rare Large Antique Lingam Singing Bowl – F#3 & C5
---
---
Antique Lingam Singing Bowl. Note: F#3 (Heart Chakra)
Weight 1.25 kilos (2 lb 12 oz). Size 20 x 10 cm (8 x 4 inches)
Antique Lingam Singing Bowl. Note: F#3 (Heart Chakra)
Weight 1.25 kilos (2 lb 12 oz). Size 20 x 10 cm (8 x 4 inches)
This rare large Antique Lingam Singing Bowl (circa 1850) take the high-sided Thadobati form with a gently curved wall with a sheered lip and flat bottom. There is a generous centrally placed lingam inside, and a matching navel or yoni underneath. A single band of dots encircle the outer rim to form a decorative collar, but the circles surrounding the lingam have been worn away with the passage of time.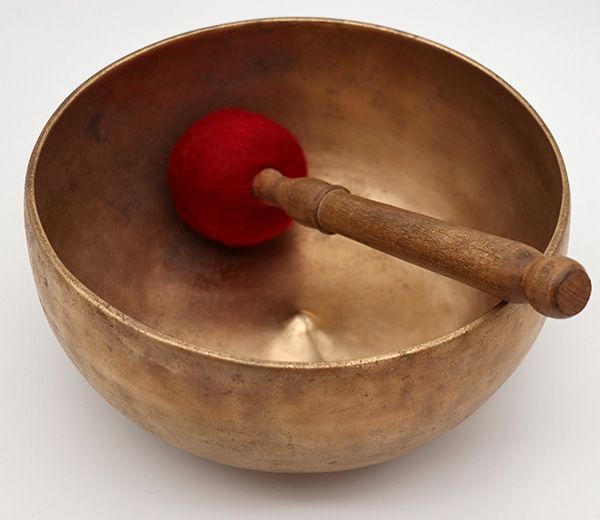 The fundamental note is a distinctive third octave F# (182-3Hz) when struck with a padded mallet or played around the rim with a suede ringer. The rim note changes to a fifth octave C (527Hz) with a wooden ringer.
This rare Lingam bowl is structurally sound and clean, with some aged patina outside and some light copper oxidization inside.
A Tibetan silk brocade bowl cushion, a padded striker, and a double-ended teak and suede ringer are all included in the price.
{audio}lingam1-25.mp3{/audio}
Listen: (3 struck notes and 2 played notes, suede ringer then wood)