Rare Large Antique Lingam Singing Bowl. – F#3/G3 (189-192Hz) – Ritual Ornamentation
---
---
Large Antique Lingam Singing Bowl (Heart/Throat Chakras)
Weight 1.06 kilos (2 lb 5 ½ oz). Size 19.5 x 10 cm (7 ¾ x 4 inches)
Large Antique Lingam Singing Bowl (Heart/Throat Chakras)
Weight 1.06 kilos (2 lb 5 ½ oz). Size 19.5 x 10 cm (7 ¾ x 4 inches)
This is a rare and unusually large high-sided antique Lingam Singing Bowl with an excellent F#3/G3 voice (189-192Hz) when stuck with a padded mallet or played around the rim with a suede ringer. The rim note changes to C#5 (550Hz) with a wooden ringer.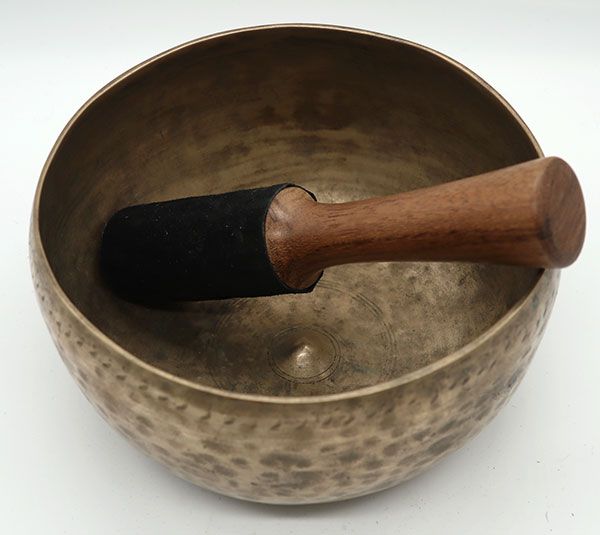 Its gently curved and finely hammered wall has an interesting and uncommon band of ritual gashes encircling the outer rim. At its centre there is a symmetrical lingam surrounded by decorative circles, with a deep navel or yoni underneath. It has a plain sheered lip.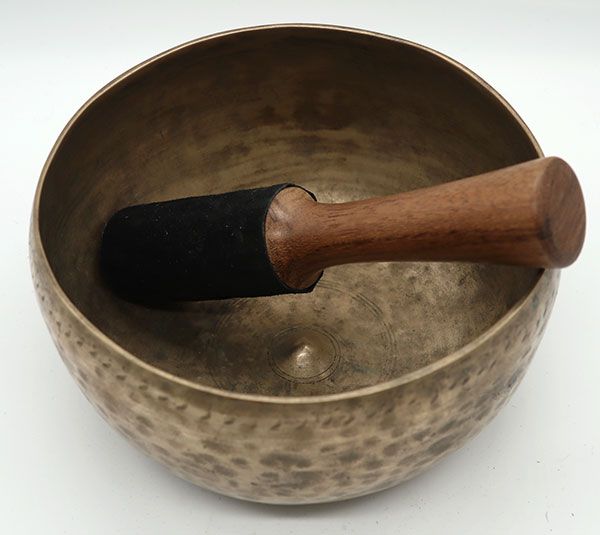 This rare Lingam bowl is believed to date from the early 19th century and is in excellent structural and clean condition with an aged patina.
A fabulous, large, and interesting example of this rare bowl form!
A Tibetan silk brocade bowl cushion, and a double-ended teak and suede ringer are included in the price.
Note: Audio clips coming soon.