Rare Large Antique Lingam Singing Bowl with Unusual Features
---
---
Antique Lingam Singing Bowl. E4 & F4 (Solar Plexus & Heart Chakras)
Weight 3 lb 0½ oz (1.37 kilos). Size 8¼ x 3½ inches (20.5 x 9 cm)
Antique Lingam Singing Bowl. E4 & F4 (Solar Plexus & Heart Chakras)
Weight 3 lb 0½ oz (1.37 kilos). Size 8¼ x 3½ inches (20.5 x 9 cm)
This large antique Lingam singing bowl has a distinctive shape and some unusual features. It's a heavy bowl with thick, almost straight-sided, walls and a wide flat bottom. It has a bold triangulated lip that is both inward facing and, unusually, downward sloping. There is an attractive large broad-based pointed lingam at its centre, surrounded by two pairs of concentric circles, and a neat navel underneath.
The decorative banding below the outer rim is very distinctive. It features a series of small parallel cuts set within a pair of lines that form a collar encircling the bowl. These small vertical cuts are at right angles to the band but do not extend the whole distance within it. They are rather like pieces of string of varying length attached to an upper clothesline, with their bottoms hanging free. At first glance this would appear to be a simple decorative feature repeated all around the bowl, but closer examination reveals two areas on opposite sides of the bowl where the vertical cuts change direction and character (this can be seen in the photographs). A single incised line encircles the bowl about two thirds of the way down.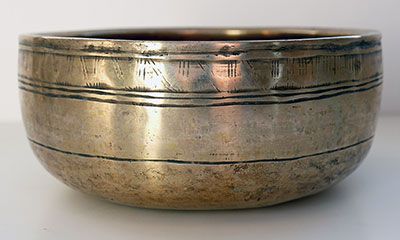 This is a multi-harmonic singing bowl. The frequency of the struck note fluctuates between 337Hz and 342Hz which is roughly midway between middle E and F, so the actual note you hear will depend on the type of striker used and where the bowl is struck. The played rim note is also multi-harmonic, with the note ranging from F4, Bb5 and A6 depending upon the type of ringer used.
This interesting and unusual lingam bowl probably dates from the 18th century. It has bags of character and is structurally sound. Its bright golden appearance is probably the result of recent restorative cleaning. A padded striker and a double-ended suede and wood ringer are included in the price.
{audio}lingam1370.mp3{/audio}
Listen: (2 struck notes and 1 played note)