Rare Large Antique Remuna Singing Bowl – Concert Pitch A#3/Bb3 (228-230Hz)
---
---
Antique Singing Bowl. A#3/Bb3 (Crown Chakra)
Weight 651 grams (1 lb 7 oz). 17 x 8.5 cm (6 ½ x 3 ¼ inches)
Antique Singing Bowl. A#3/Bb3 (Crown Chakra)
Weight 651 grams (1 lb 7 oz). 17 x 8.5 cm (6 ½ x 3 ¼ inches)
This is a rare antique Remuna singing bowl. It is larger and heavier than usual for this bowl form, with a gracefully curved high wall, well defined circles at its centre, and a decorative border of dots around the outer rim.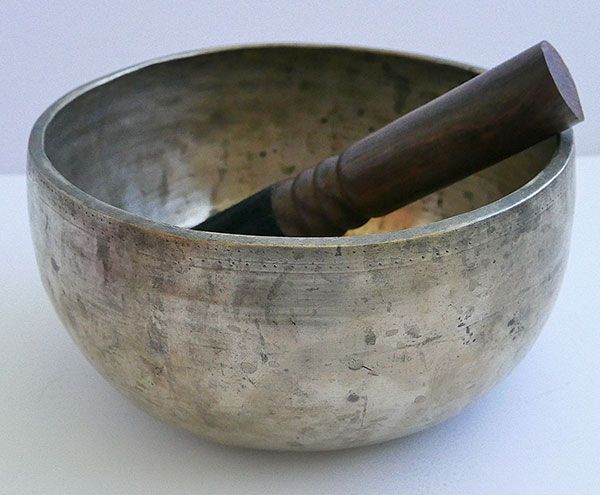 It has an excellent third octave A#/Bb fundamental that hovers between 288Hz and 230Hz and is virtually concert pitch. The note is the same when struck with a padded mallet or played around the rim with a suede ringer. The rim note changes to a fifth octave E (667Hz) if played with a wooden ringer.
This old bowl is in good structural condition, but with some copper oxidization inside and some stains here and there which could probably be removed if desired. Nonetheless, this is an exceptionally nice singing bowl. Virtually all Remuna bowls have lovely voices, and this is no exception.
A Tibetan silk brocade bowl cushion and a ringer are included in the price.
Note: Audio clips coming soon.